Seasons Greetings from Prostate Scotland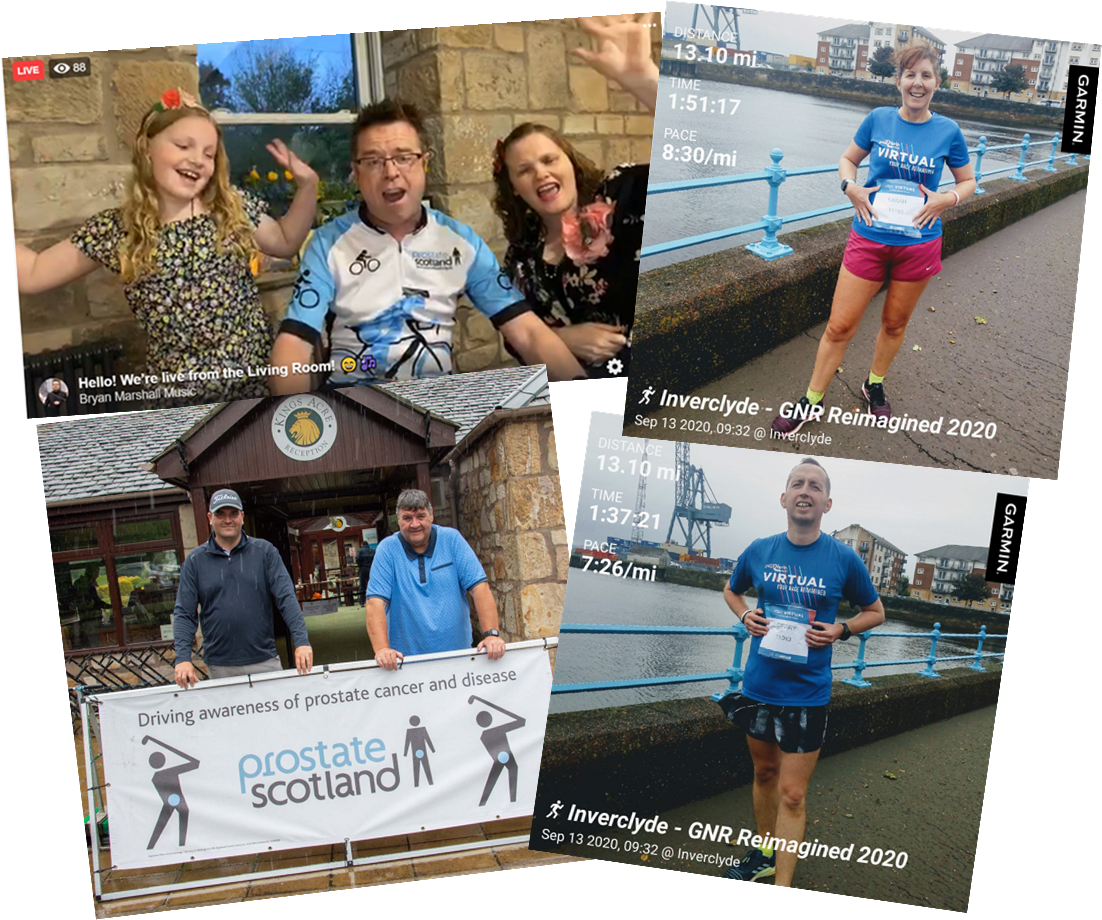 Photo credit bottom left:  Murrie Thomson
Seasons Greetings from Prostate Scotland and thank you to everyone for your support and interest in our work this year – it has been very much appreciated and especially welcome during this year.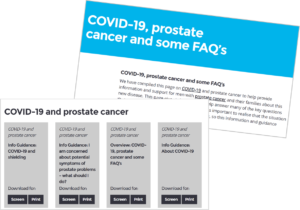 During the year we have continued to place emphasis on and take forward our work to ensure that even more men and their families received information and support on prostate issues. We have also placed emphasis on and prioritised providing information about COVID-19 and prostate cancer. From April, we developed and continuously updated a series of online documents on COVID-19 and prostate cancer to help provide information and support for men and their families.
The impact of the pandemic has understandably led to the cancellation or postponement of many of our fundraising events and severe disruption to our fundraising. Despite this we have been able to move our support for those affected by prostate diseases forward significantly.
Our new services
We are delighted to share with you that Prostate Scotland is currently developing a range of new services to help men across Scotland navigate prostate cancer.  It is called our COMPASS project and in time it will cover information, courses, exercise programmes, workshops and support services.  The services are all provided without charge to those benefiting from them.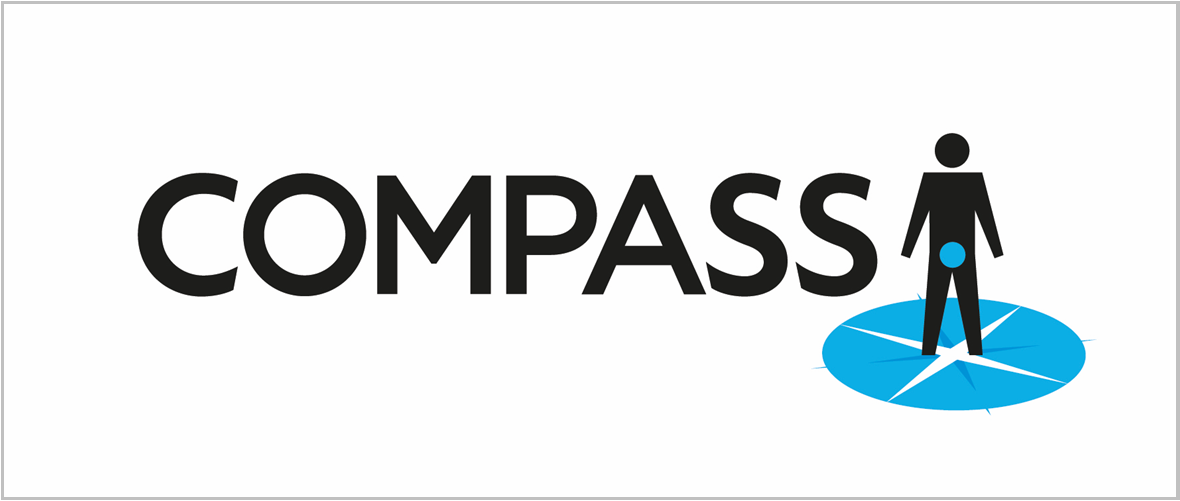 Our Living Well with Prostate Cancer course is now available online to men living across Scotland.   If you are currently having treatment for prostate cancer, or your treatment has finished, you can sign up for the next course starting on Thursday 28th January.   The course is on a Thursday from 1-2.30pm for 6 weeks (with a follow-up session about a month after the course finishes).  Topics covered include managing fatigue and the side effects of treatment (including urinary problems and erectile dysfunction) in addition to how to eat well when you have prostate cancer.  You'll meet other men and hear from experts.
Men who took part in the previous course said they would recommend it to other men and that it was worthwhile. One participant commented "So many different experiences from the other participants and some invaluable advice from the experts".  Another said "First class. Thank you".
The course is a joint initiative with Maggie's Edinburgh and to join the next course phone Maggie's on 0131 537 3131 or email edinburgh@maggies.org.
If you would like to talk about any aspect of a prostate cancer diagnosis, we have a one-to-one support service running in partnership with Maggie's Highlands and Maggie's Edinburgh.  You can talk to a Cancer Support Specialist about anything from the impact prostate cancer has on your life, to treatment decision making or the side effects of your treatment.   You can find out more at prostatescotland.org.uk/help-and-support-for-you
We hope to bring you news of a new exercise programme in the New Year.  There is a growing amount of evidence showing the benefit of exercise for men with prostate cancer, so we wanted to develop something that was safe and accessible while the pandemic continues to impact our lives.
Our first virtual fundraising initiative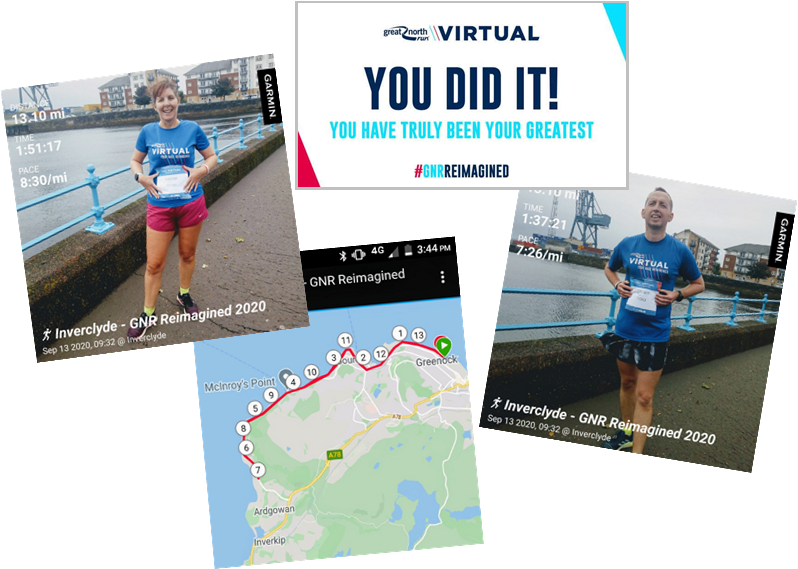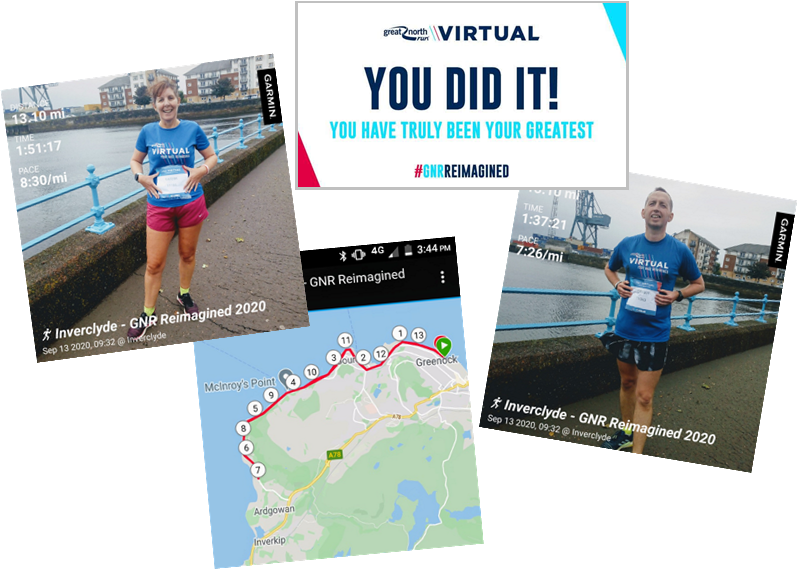 In May, we launched our first virtual fundraising initiative – Prost80.  Many of our hard working supporters adapted their fundraising activities to socially distanced challenges and we were thrilled to see so many inspired and fun ideas to raise funds and awareness.
Keen runners Sarah and Gerry ran the Virtual Great North Run in aid of our work.  They chose to run their half marathon on a coastal route along the Firth of Clyde from Greenock Esplanade.
The Anchor Lodge of Research No 1814 in Gourock, raised the tremendous sum of £1,585 in aid of our work. Their initiative, entitled 'Time on our Hands' saw each minute of one day being sold for £1, setting a grand prize of £500 for the winner and a goal of raising £1,000 for our cause.
Joe from Inverurie Rotary Club completed a 54 mile sponsored cycle challenge.  Joe cycled the route of the 54 mile Suie Classic Cycle Sportive, which included an ascent of 4,347 ft.  We were delighted to receive another donation recently from Joe for his turn as Santa in a virtual event!
Linda took up the The 2.6 Challenge, baking 26 cakes on her day off  to raise the wonderful sum of £300!  Linda held a bake sale at the Western General Hospital in Edinburgh, where she is a member of the Urology Team.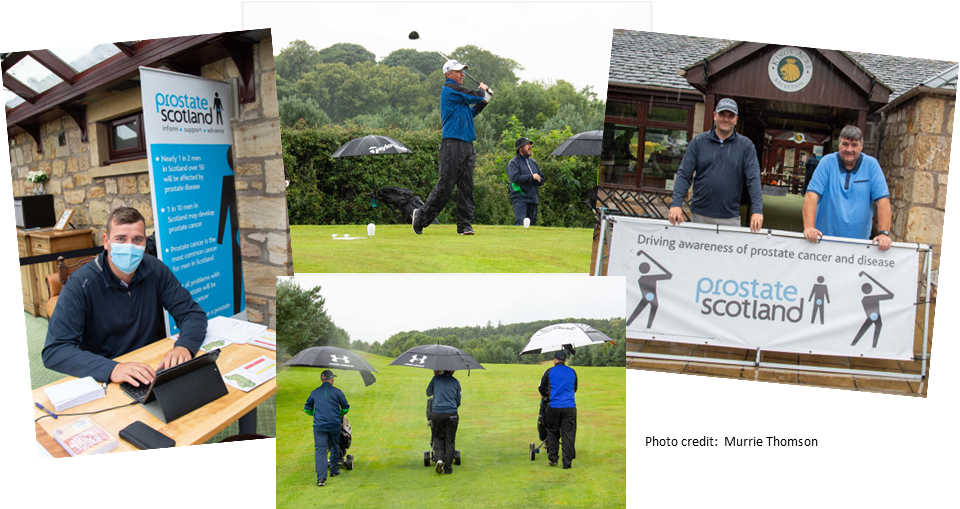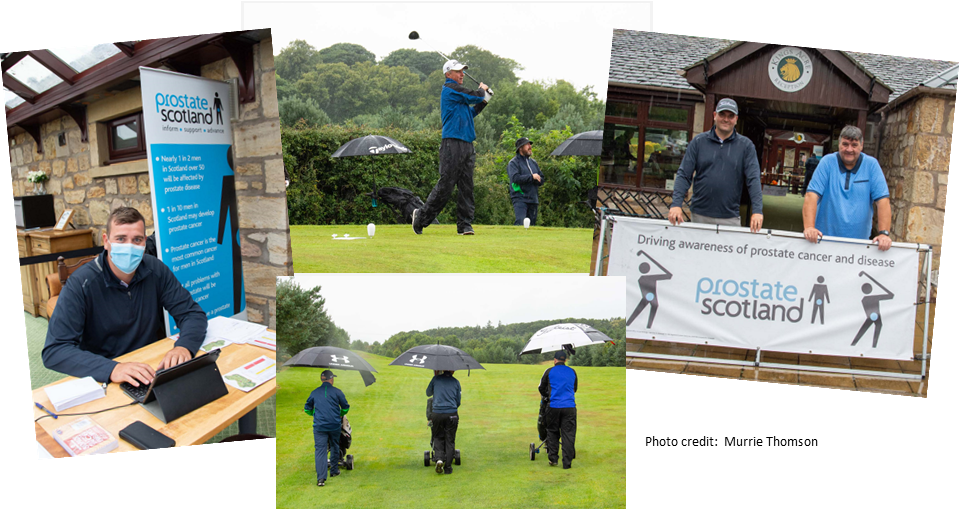 Grand Lodge of Scotland member Chris organised a Charity Golf Tournament which raised £3,137.22 in aid of our work.  Chris drew on the kind support of local businesses, individuals, organisations and lodges who sponsored tees, fielded teams, and donated prizes.
We're also delighted that three teams of fundraisers grew moustaches in November to raise funds and also much needed awareness of prostate cancer. We were pleased to work with the team from Rail Systems Alliance Scotland on raising prostate awareness in the workplace and are looking forward to delivering our series of ToolBox Workshops to RSAS in future.
We would like to thank everyone who so kindly fundraised in aid of the charity and all those who so kindly sponsored and supported them.
We've continued to update our Prost80 and news pages with their virtual fundraising ideas, and our page Supporting Prostate Scotland this festive season includes ideas on ways to generate free donations when you shop online throughout the year.  Many of the popular active events such as the Kiltwalk, Edinburgh Marathon Festival and the Great North Run are (Covid permitting) back for 2021, and we are pleased to offer free places for our supporters.  Please head to our Events page to see what's available.
Our other projects
Despite the pandemic affecting our physical talks programme we are pleased to have been able to give talks and webinars about prostate issues by video locally and internationally – this has included talks to many local groups and societies.
We continued to work alongside the NHS in Scotland to help inform and support men with prostate disease.  Our booklets and materials are provided to hospitals and GP practices free of charge throughout Scotland.  These are given to men and their families and we ensured this continued this year as a priority.  Throughout the year, we worked closely with PAGES, our advisory group of doctors, nurses, health professionals and patients to help ensure our prostate information is accurate, relevant and easily accessible.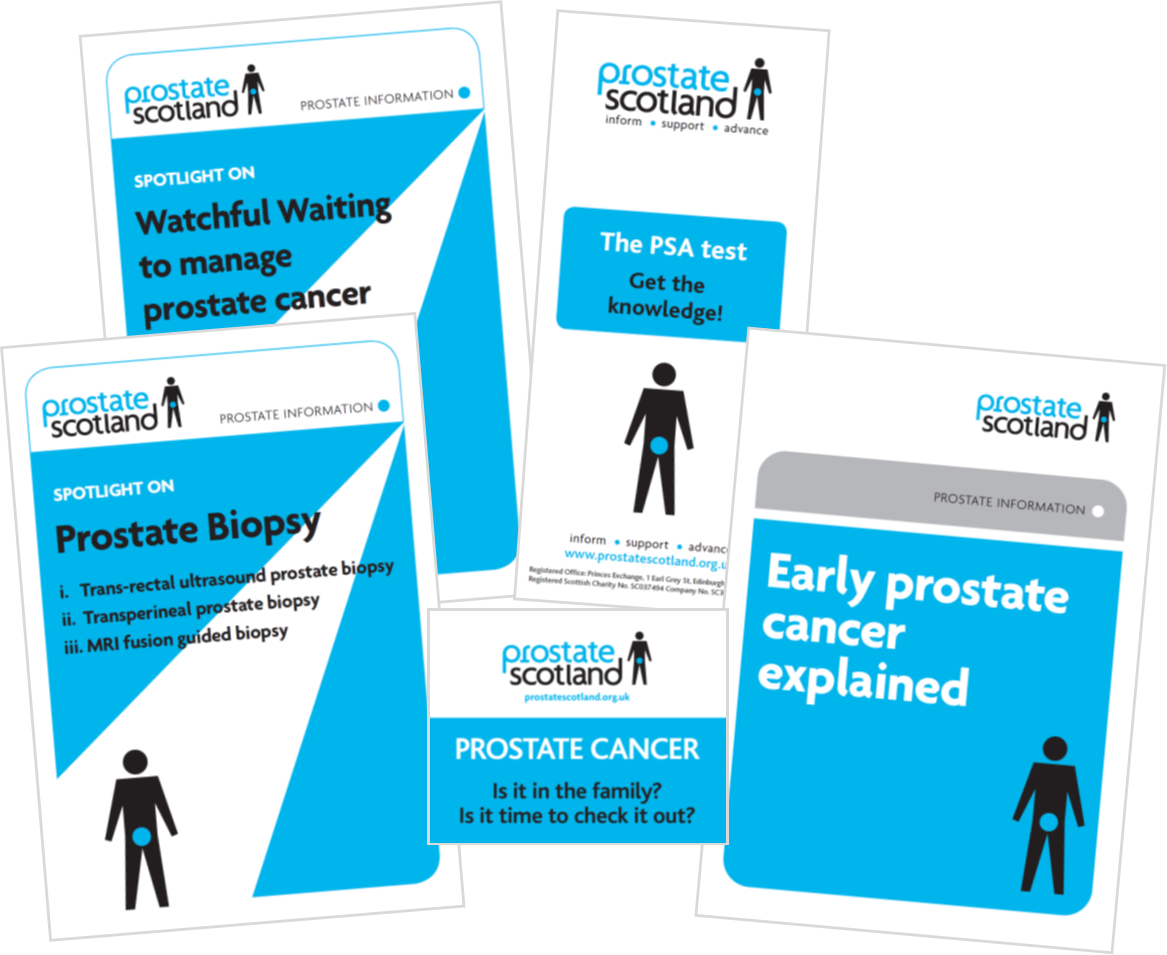 We collaborated with NHS Education for Scotland by presenting a webinar to clinicians in primary care by helping to provide them with the tools to support men with prostate concerns in their care.  In November we took part in the Silver Jubilee British Association of Urological Nurses (BAUN) virtual conference. This event enabled us to showcase the resources that we have available as a back-up to consultations with Clinical Nurse Specialists, ward staff and clinicians.
We would like to thank and pay tribute to all the clinicians and health and care staff for having gone the extra mile these past difficult months during the pandemic to help and treat men with prostate cancer and disease – you have our thanks and admiration.
The year ahead
Over the coming year we look forward to continuing or work to provide information and support for men and their families across Scotland. We also look forward to extending our range of information for men and their families, as well as further developing the range and type of support services via our COMPASS project.
The Prostate Scotland team is working from home/remotely, but you can still contact us by email, or by calling us at the Prostate Scotland number:  0131 603 8660.
We would like to wish you all the very best for the festive season and for the New Year and thank you for your support of Prostate Scotland.  It is much appreciated and has enabled our work to continue to develop.