Sarah and Gerry's Virtual Great North Run in aid of Prostate Scotland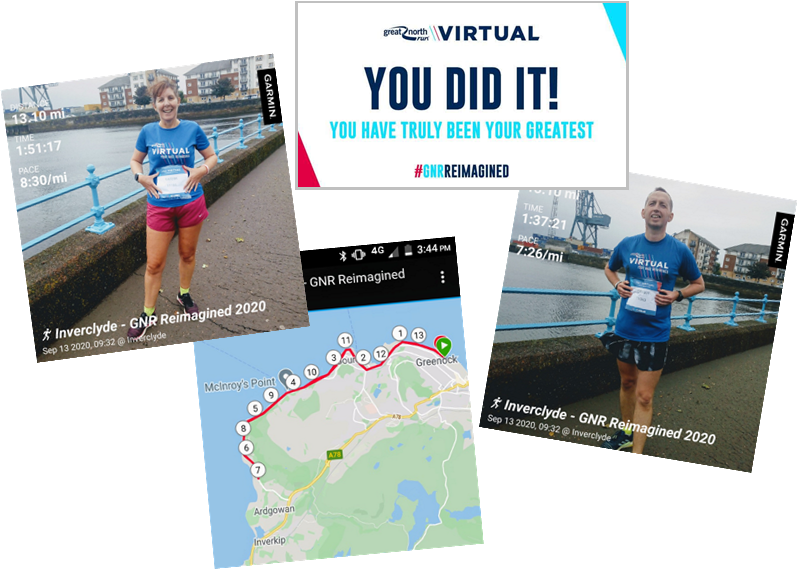 Congratulations and a very big thank you to our long term supporters Sarah Whalen and Gerry Gallacher who last month completed the Virtual Great North Run in aid of Prostate Scotland.
The Great North Run is the world's biggest Half Marathon with 57,000 participants running from Newcastle-upon-Tyne to South Shields.  The 40th anniversary race was planned to take place on the 13th September, but was replaced with the Virtual Great North Run.
As keen and experienced runners, and having taken part in the 2018 event, Sarah and Gerry decided to participate in the virtual version this year and make a donation in aid of our work.  They chose a 13.1 mile coastal route along the Firth of Clyde which took them from Greenock Esplanade to Lunderston Bay and back, and tracked their achievement with a running app.  The Great North Run created an innovative virtual experience so that runners could experience the sounds of the event, to make it as close to the reality of running the Half Marathon race as they could.
We're delighted to receive Sarah and Gerry's engagement and kind donation. Their continued support helps us to reach out to more men and their families across Scotland who are affected by prostate cancer and disease with information and support.
If Sarah and Gerry's challenge has inspired you, we have free charity places for supporters to take part in the Edinburgh Marathon Festival Virtual Challenge this year.   You'll receive downloadable training plans, Prostate Scotland and Edinburgh Marathon running shirts as well as a Finishers Medal to mark your achievement.  There are multiple distances to choose from.
If you'd like to apply for a free charity place to support Prostate Scotland in the Great North Run 2021, please get in touch here.
Information on coronavirus and prostate cancer
We've developed a series of online documents on COVID-19 and prostate cancer to help provide information and support for men and their families at this difficult time.  Our full range of information and awareness materials is also available in the Resources section of our website.
You can also find out more about our new support service COMPASS at prostatescotland.org.uk/help-and-support-for-you