Scotland's Virtual Kiltwalk Weekend 2021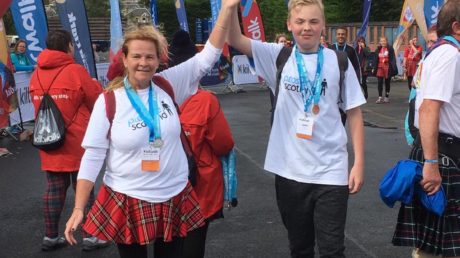 https://www.prostatescotland.org.uk/events/scotlands-virtual-kiltwalk-weekend-2021
Event details
Start Date: 23rd Apr 2021
End Date: 25th Apr 2021
Join us for Scotland's Virtual Kiltwalk Weekend to support Prostate Scotland – virtually!
If you'd like to take part in the Virtual Kiltwalk, all you need to do is walk (or skip, scoot, dance, jog or jump!) any socially distanced challenge you wish on the virtual event weekend of 23rd to 25th of April.
What's more, the sponsorship money you raise from family and friends will be topped up by 50% by The Hunter Foundation.*
A key requirement is that you must follow Scottish Government and NHS guidelines on staying safe and on exercise and social distancing.  The Kiltwalk is an ideal event for a household to participate in as a team. We will be pleased to offer free places to supporters raising funds in aid of our work – you can apply for your free place by filling in the form below.
16,000 Kiltwalkers devised their own active challenges and raised £2.5 million for charities, with The Hunter Foundation doubling the fundraising total to £5 million.
Remember, you can walk, run, skip, scoot, dance, jog or jump any socially distanced challenge you wish – any activity that gets you moving!
You might find inspiration in Prostate Scotland's exercise video.  At a time when people are spending much of their time at home, our free pre-recorded video advises people with prostate cancer how to exercise safely from the comfort of their own home.
The Virtual Kiltwalk Weekend is taking place on what would normally have been the weekend of the Glasgow Kiltwalk.  A live event – Scotland's Kiltwalk – is planned to take place in Glasgow on 29 August.
What you need to do now:
Sign up!  We can offer you a free place when you fill in the form below** or you can pay for your own place by registering here (registration fees: £12.80 adult/£6.50 child/under 5's free)
Set up your JustGiving online fundraising page – you will be directed to do this during registration
Start training and fundraising – remember you can walk any length you wish or adapt your challenge to any activity!
Put on your tartan and your Prostate Scotland t shirt and join in the fun on the weekend of 23rd to 25th April
As a supporter undertaking this event the Kiltwalk offers:
Access to 50% top up from The Hunter Foundation
Finishers Certificate signed by Sir Tom hunter and a Virtual Kiltwalk 2021 Medal
A chance to win a brand new car courtesy of the Kiltwalk sponsor
Auto generated and personalised online JustGiving fundraising page
Digital Challenge Pack and online entertainment throughout the weekend
From Prostate Scotland you will receive:
Pre-event information about how to get sponsorship and fundraise and how to make it easy, safe and fun!
Specially designed Prostate Scotland T shirt
Post-walk a Prostate Scotland Certificate of Appreciation
** We can offer you a free place by obtaining a 100% discount code from the Kiltwalk.  Once we have emailed this to you, you should register and purchase your place here and apply your discount code at the checkout.
*About the 50% top-up
All funds raised by Kiltwalkers must go through the Kiltwalk before being sent on to Prostate Scotland with the 50% top-up.  The 50% fundraising top up limit for this current year 1st January 2021 to 31st December 2021 is £5000 per walker or donor. This is a cumulative limit for all Kiltwalk events in the above period.  All fundraising top ups are subject to deadlines and Trustee approval.  For more information on the top-up please go to:  The Kiltwalk | Where Your Money Goes