Top fundraising team scoot to success!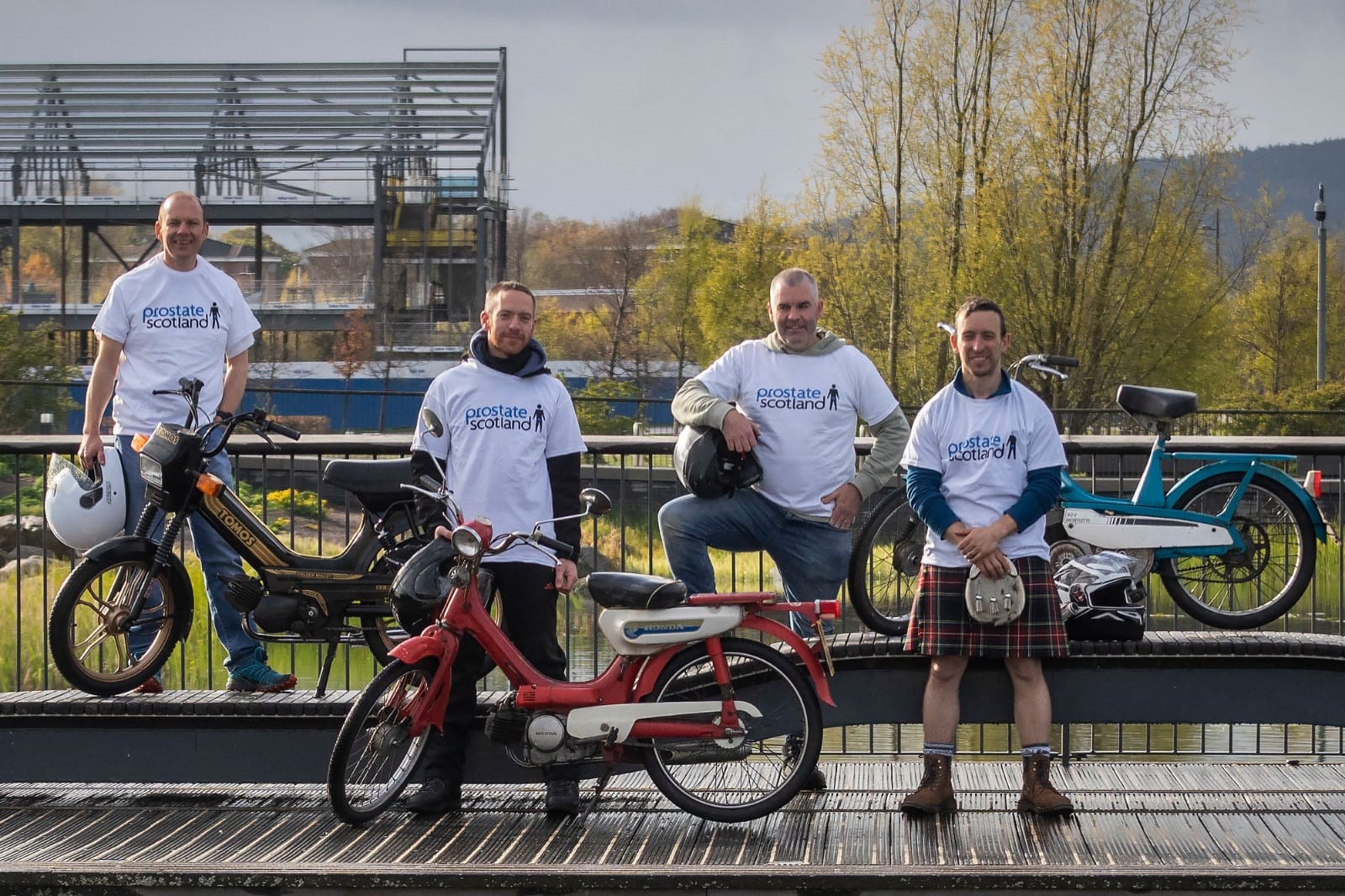 Our heartfelt thanks and congratulations go to a top fundraising scooter team from Inverness.  The latest donation towards their DREAM Tour scooter challenge in aid of our work brings their donations total to a phenomenal £5,901.27!
In May last year, friends Kevin, Kenny, Alasdair and Ed raced from Inverness on old reconditioned 50cc scooters in a 'Top Gear' style challenge. Their challenge began during the previous winter:  first of all, they sought out old vehicles with engines of 50cc or less, and then they tasked themselves make them roadworthy.  By May, the scooters were ready for the 250 mile round trip. The journey took place in three stages, and took in the Old Man of Storr and Glenelg, before returning to Inverness. The friends pitched their tents for an overnight stay and returned the following day.
The final line-up of scooters had a combined age of 160 years!  They included a 1984 Tomos, 1990 Tomos Golden Bullet, 1977 Mobylette 40V and a 1973 Honda PC50.
As well as raising sponsorship from family, friends and colleagues, the friends also donated the proceeds of the sale of one of their scooters on completion of the race.  The team promoted their efforts in the local press and on their DREAM Tour social media, which has helped to extend the message of prostate awareness beyond their community.  We were delighted to see them featured in The Inverness Courier and on the front page of the Highland News.
Through a workplace initiative they recently secured matched fundraising from Enterprise RAC UK, which rounds off their terrific fundraising efforts.
Congratulations and a very big thank you to Kevin, Kenny, Alasdair, Ed and driver Martin, and thank you to everyone who has supported them in this tremendous achievement.
Calling all motor enthusiasts!
We're delighted to be supported in two classic car tours organised by Rotary Clubs in Scotland this year!
Perthshire Classic Car Tour – Sunday 24 April
Loch Ness Classic & Vintage Car Tour – Saturday 4 June