Richard's West Highland Way raises over £6,000 in aid of Prostate Scotland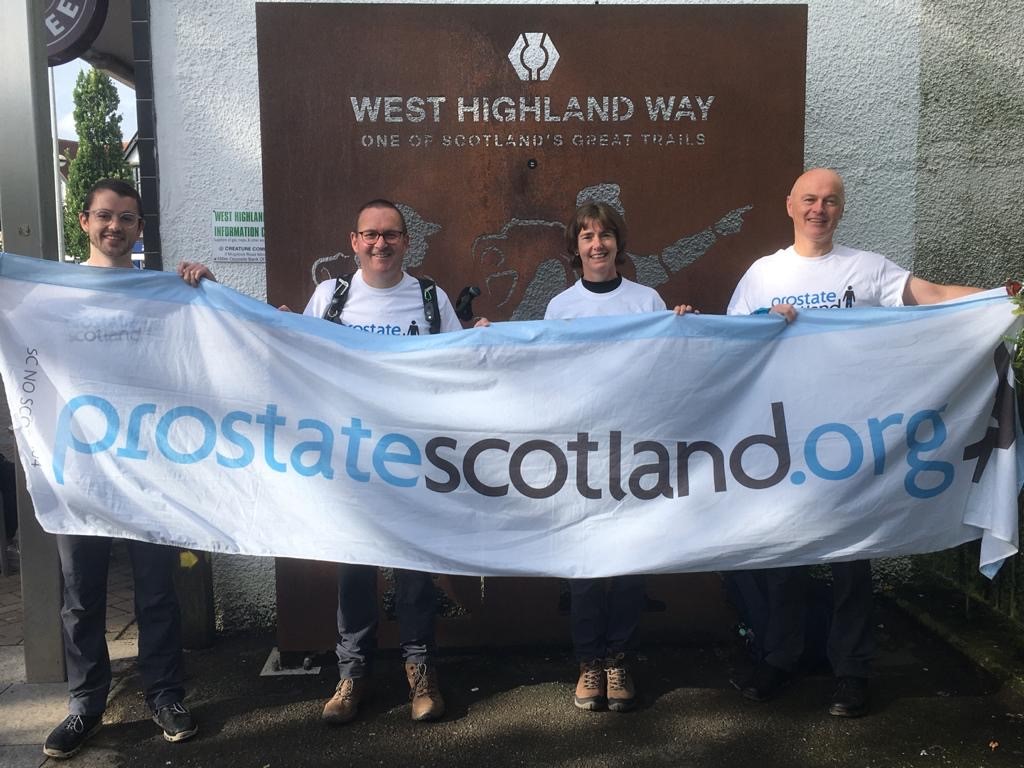 Please note this fundraising challenge was undertaken by 6 September, before new limits for meeting others from different households were introduced on 14 September.
Congratulations and a very big thank you to Richard Kerr and friends William, Jackie and Andrew for walking the West Highland Way earlier this month and raising over £6,000 to support our work.
The West Highland Way is one of the most established and well known walking routes in the UK.  It takes in high mountains, shores of lochs, moorlands and parks with tremendous scenery for walkers to enjoy.  The route is 96 miles long, with an elevation of 3,155 metres and stretches from Milngavie to Fort William.  Officially opened on 6 October 1980, The West Highland Way celebrates its 40th anniversary this year.
The team tackled the iconic route over seven days, their longest trek being 19 miles in one day.  Said Richard  "96 miles completed on Thursday afternoon with only one blister to show for it. In the whole week we only had around half a day of rain too!  A huge thank you to everyone who has supported me and my total raised – so far – is well beyond my expectations."  Richard and team have raised a tremendous total of £6,119.24 including Gift Aid to date.
We're delighted to hear that Richard, William, Jackie and Andrew enjoyed the challenge so much.  Their fundraising efforts were very much a team effort, with Richard's wife Amanda acting as fundraising campaign manager.  Their support, and that of their friends and family is much appreciated, and will help us to take forward our work in reaching out to many more men and their families with information and support on prostate cancer and disease.  Thank you to everyone who has contributed to their fundraising to reach this truly fantastic amount.
If Richard and his team have inspired you to get active in autumn while supporting Prostate Scotland, head to these pages:
The Edinburgh Marathon Festival Virtual Challenge – a great challenge if you have taken up running during lockdown or if you are a keen runner and have missed your usual races this year – available until 31 December
Big Blue Thank You – a new virtual event from the organisers of the Edinburgh Marathon, Men's10K and Supernova taking place throughout 2020
There are other easy ways to support Prostate Scotland too, if you prefer not to undertake an activity.
Information on coronavirus and prostate cancer
We've developed a series of online documents on COVID-19 and prostate cancer to help provide information and support for men and their families at this difficult time.  Our full range of information and awareness materials is also available in the Resources section of our website.