Big Blue Thank You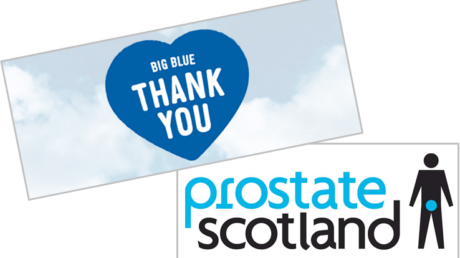 https://www.prostatescotland.org.uk/events/big-blue-thank-you
Event details
Start Date: 5th Jul 2020
End Date: 31st Dec 2020
Prostate Scotland is delighted to be a supporting organisation of the Big Blue Thank You –  a new initiative that everyone can join and has three key objectives:
1. Say "Thank You"
…to all key workers across the world for the incredible work they are doing every day.  The Big Blue Thank You is also a perfect way to say Thank You to a person or charity that has done something special for you.  There have been millions of positive actions over the last few months and this is a great way to show appreciation globally for all these acts of kindness.
2. Raise money for charities 
…to support the amazing work they continue to offer to support individuals and families at this time. Lockdown and social distancing, although vital for our safety, is having a massive impact on charities since the usual fundraising that takes place via events and other fundraising activities cannot take place right now. They urgently need support.
3. Get Active
Being physically active is great for keeping us healthy and strong, particularly whilst restrictions have been in place.  We want to encourage people to find an activity that makes them feel good. This could be anything including running, skipping, yoga, cycling or gardening – anything active, as a positive contribution to the Big Blue Thank You!
This initiative has been devised by our partners GSI Events, organisers of the Edinburgh Marathon, Men's10K and Supernova amongst many other fundraising sports events.
Your own dedicated fundraising and donation area
A Big Blue Thank You activity space where you can write about your planned activity.  You can complete your Big Blue Thank You activity from July 5th onwards.
A personalised Information Pack which gives you all the information you need to know about taking part in the Big Blue Thank You
A downloadable, personalised Big Blue Thank You Participant Number which you can print off and wear as you complete the activity along with a  Prostate Scotland T shirt/running shirt or vest and water bottle
A Rewards area where you can collect special reward badges for joining, donating, fundraising, sharing and completing your Big Blue Thank You activity
A Prostate Scotland Certificate of Appreciation
The Big Blue Thank You encourages loads of social sharing as you complete your activity and tell them your fundraising story. The Big Blue Thank You platform will keep updating with how many people are part of the community and getting involved, providing inspirational stories and ideas, and displaying a fundraising grand total made up of everyone's collective contributions.
In addition to signing up at the Big Blue Thank You, please take a couple of minutes to register with Prostate Scotland using the form below so that we can support you in your fundraising and send out your Prostate Scotland clothing.  Our Supporter Care team is on hand to help with any queries and can be reached on info@prostatescotland.org.uk and on 0131 603 8664.