Jolly, Kilted and Raring to go: Team JKR!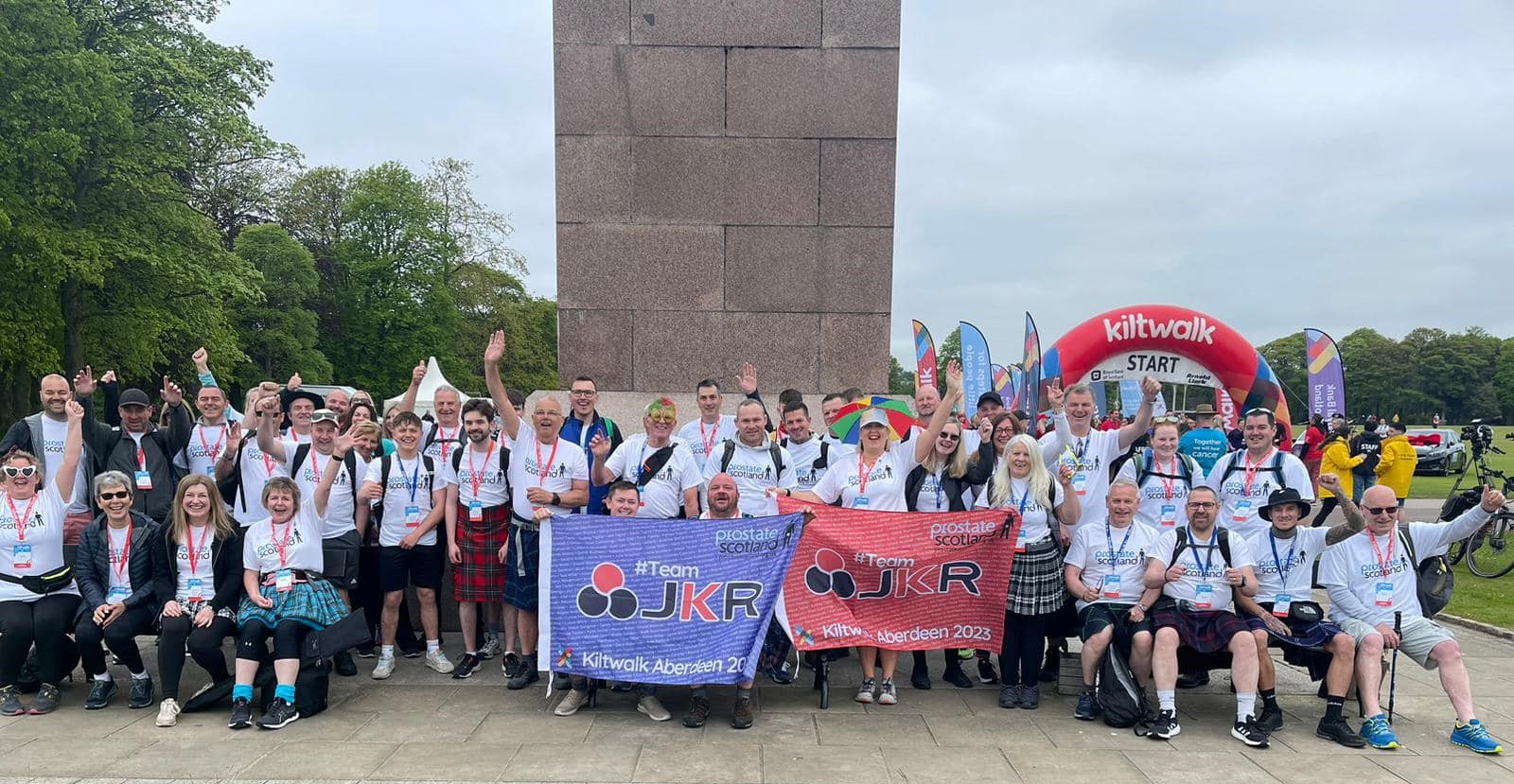 Jolly, Kilted and Raring to go! That was our tremendous Team JKR in the Aberdeen Kiltwalk in June. Colleagues from the JKR Group were joined by eight walkers from Huws Gray Aberdeen, who together succeeded in raising the magnificent amount of £13,580!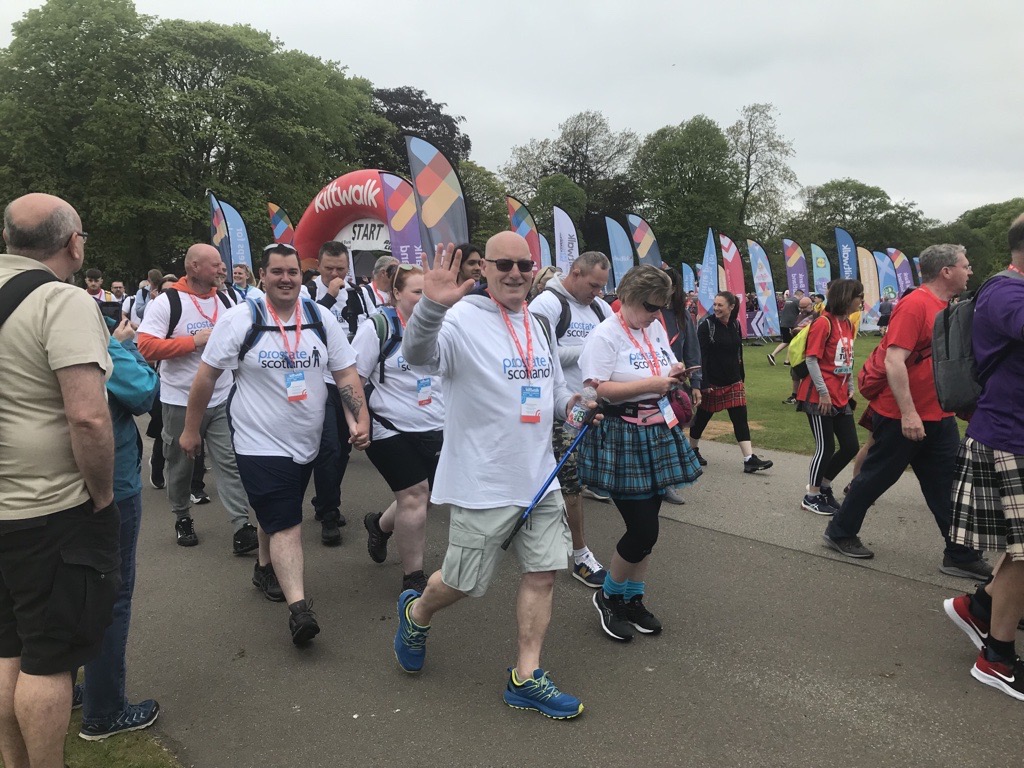 The team of 53, based across the North East of Scotland, stepped out for Prostate Scotland in support of a colleague in the Mighty Stride event on Sunday 4 June. Each member completed the 18 mile route of the Deeside Way in Banchory, which started in Duthie Park. After the pit stop in Drumoak, they were welcomed in glorious sunshine to the Bellfield Park finish line by Kiltwalk MC Greg Anderson.
Raising funds and prostate awareness
Julie Strachan of JKR Contractors organised Team JKR, working in partnership with the charity for several months and securing fund matching of £5,000 from her employers.
Morag Idan, Communications & Supporter Care Co-ordinator, Prostate Scotland said "We're thrilled to receive so many generous donations in the Aberdeen Kiltwalk from Julie Strachan and her team of colleagues.  Their fundraising has helped us to raise prostate awareness in their community and will also help us to build our work on informing, supporting and advancing on prostate cancer and disease across Scotland.  It's a wonderful gesture to take part and to show support for their colleague. A big thank you also to JKR Contractors for their matched funding."
Congratulations and thank you to Julie!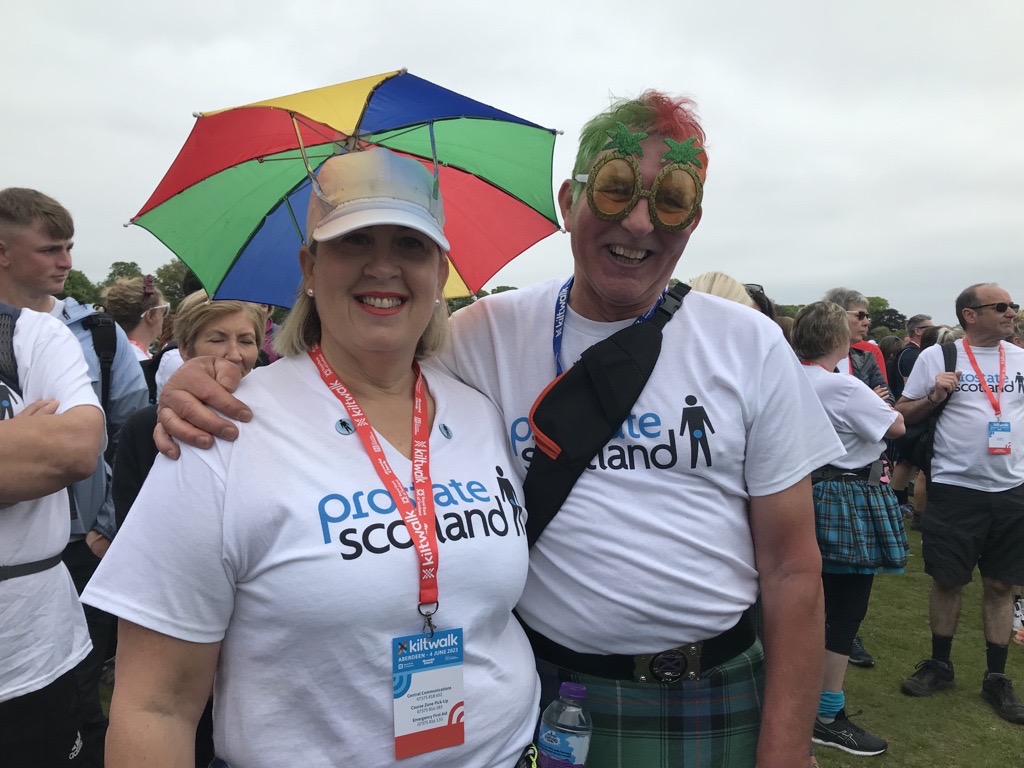 "Our heartfelt congratulations and thanks go to Julie, who is a veteran of the Kiltwalk!  It was a pleasure to work with her.  She's taken part in the last 15 Mighty Strides in a row, in Glasgow, Edinburgh, Dundee and Aberdeen, and in addition to her fundraising this year, has previously raised over £25,000 for several charities.  A big thank you Julie and the rest of the team for your Kiltwalk Kindness!"
Thank you Aberdeen Live for featuring their fundraising story this week!
More Kiltwalks to come!
The Kiltwalk events are staged in four Scottish cities – Glasgow, Aberdeen, Dundee and Edinburgh! It's a firm favourite with charity supporters across Scotland and a fantastic day out!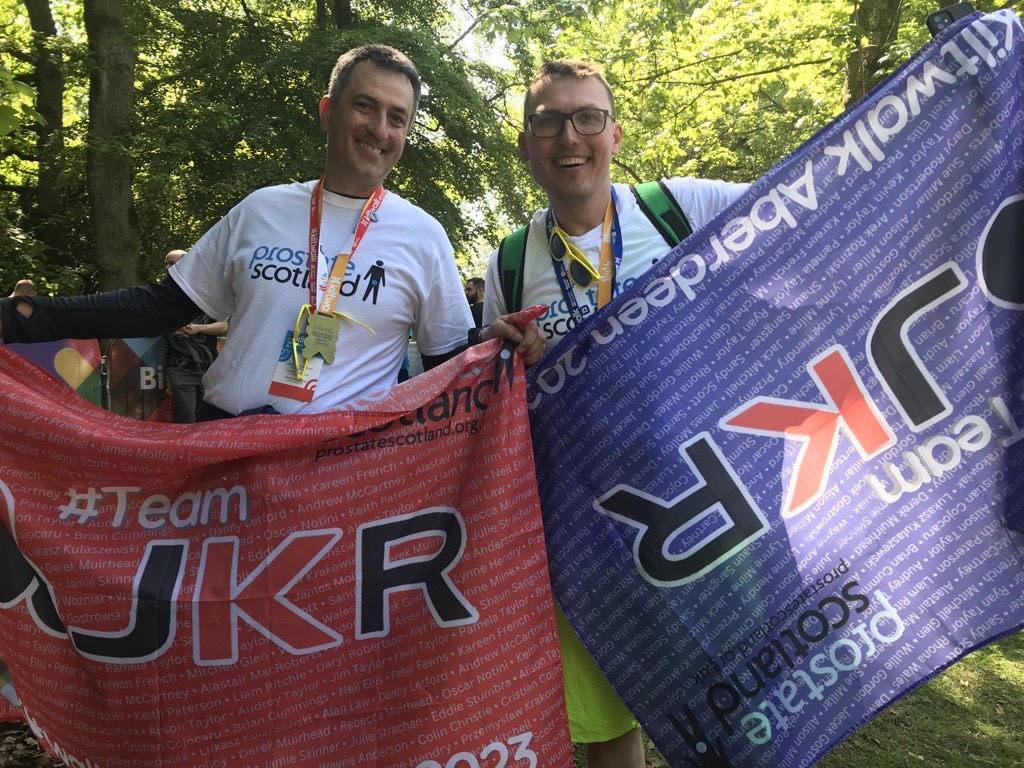 It's an inclusive event, with registration open to all, and you walk at their own pace along scenic routes. You'll join many other walkers supporting the causes they care about.  Walking at your own pace means that you'll get the chance to speak to other walkers – and even learn about the work of charities they support in Scotland! It's an ideal event for colleagues, friends or family to take part in together.
The excellent Kiltwalk team and volunteer 'Kilties' are on hand (and bike!) to encourage and welcome walkers along the routes. The next Kiltwalk is from St Andrews to Dundee on Sunday 20 August.  The Edinburgh Kiltwalk takes place on Sunday 17 September.
We offer you a free place when you fundraise for Prostate Scotland in the Kiltwalks.  Head to our pages to find out more and to apply – it takes just a couple of minutes!
Interested for next year? Get in touch and we'll get back to you when dates are released!