Celebrating six months of our partnership with Maggie's Edinburgh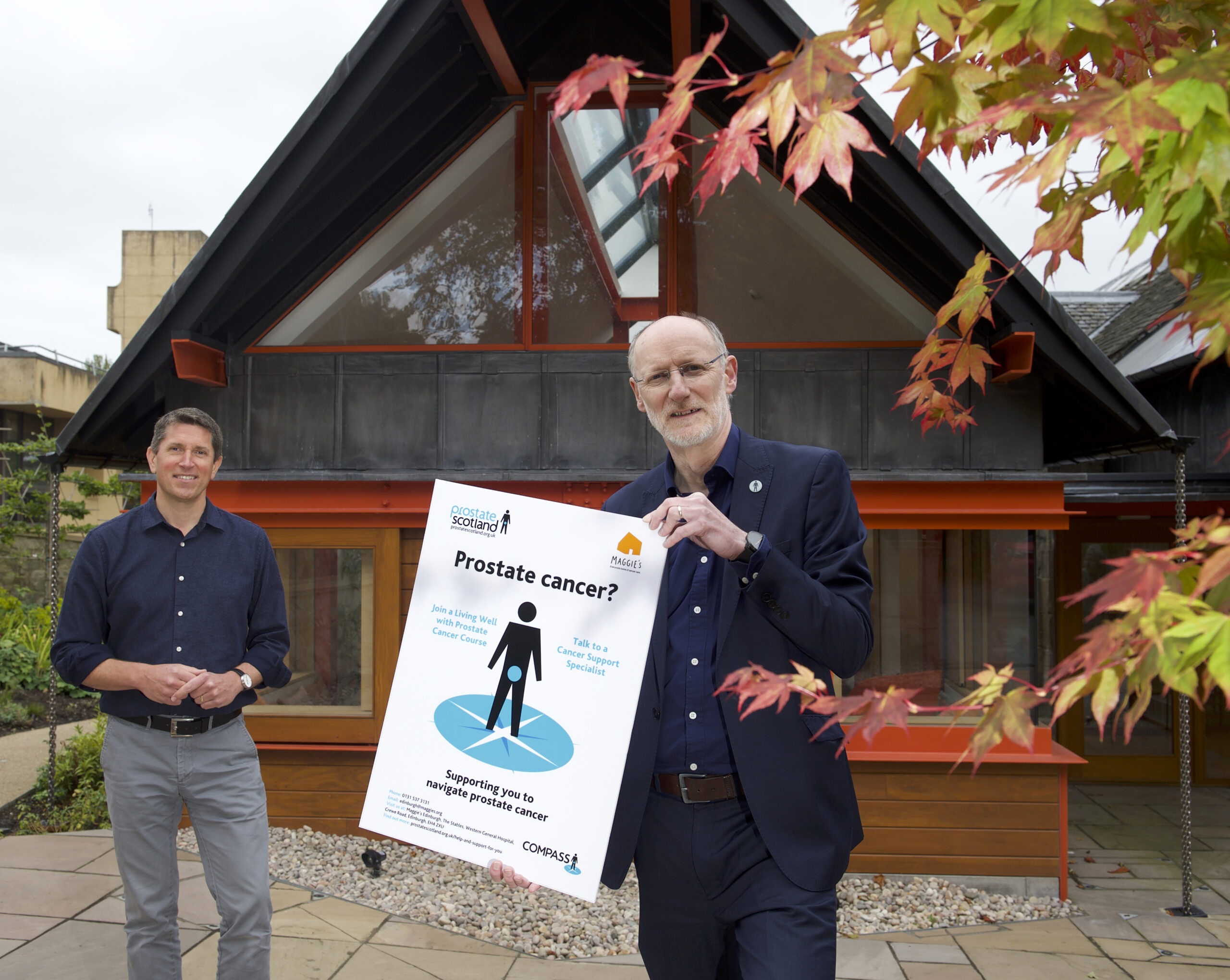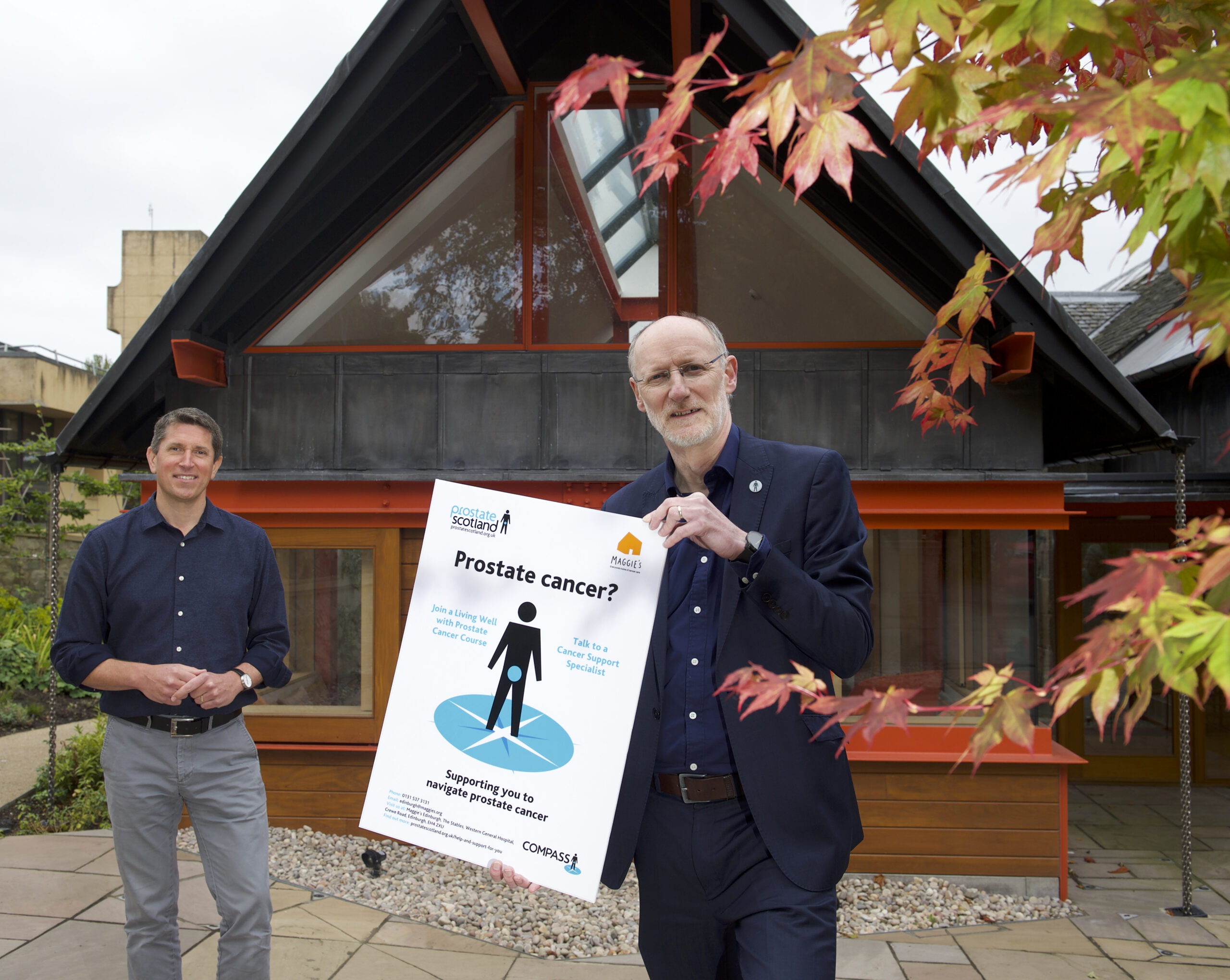 Photo credit: Sandy Young Photography
We're celebrating six months of our partnership with Maggie's Edinburgh.  It's part of our COMPASS project which offers a range of services to support men to navigate prostate cancer.
Our joint initiative with Maggie's Edinburgh launched at the end of September and offers men with prostate cancer access to a Maggie's Cancer Support Specialist free of charge. We offer appointments and the opportunity to talk with support specialists who have specialist knowledge of prostate cancer.  You can talk through any aspect of your diagnosis – Maggie's Cancer Support Specialists are available to help.
With Maggie's Edinburgh, men from all over Scotland can also join a free seven-week 'Living Well With Prostate Cancer course.  It has been specifically designed for men who are undergoing treatment for prostate cancer or when treatment has finished and is delivered via Zoom.  Men can hear from experts on a range of topics.  The course is open to men across Scotland.  Registration for the next course starting end April/beginning of May is now open.
Said Christine Roxburgh, Services Development Manager at Prostate Scotland: "Since launching the services six months ago, we're very pleased to have supported many men and their families, and not just from the Lothians.  The Living Well with Prostate Cancer course has been attended by men from all over Scotland.  We're looking forward to helping more and they can speak about any aspect of their diagnosis or about living with prostate cancer."
Said Andrew Anderson, Centre Head, Maggie's Edinburgh:  "Maggie's is delighted to be partnering with Prostate Scotland. The individual support has been really well received and the courses have been a really important new initiative for men with prostate cancer. The feedback has been tremendous and we are keen to continue the courses for other men looking to understand how to manage side effects, plan for physical and emotional recovery and talk through important subjects such as sexual function and healthy eating after treatment. The groups have been such a valuable place for men to share their experiences and to be given guidance and support by our cancer support specialist Lisa Egan and the team."
"There are courses planned after Easter, so if you are interested, be in touch."
Contact Maggie's Edinburgh:
Tel: 0131 537 3131
Email: edinburgh@maggies.org
Visit us at: Maggie's Edinburgh, The Stables, Western General Hospital, Crewe Road, Edinburgh, EH4 2XU
For more details, head to prostatescotland.org.uk/help-and-support-for-you/cancer-support-specialist and prostatescotland.org.uk/help-and-support-for-you/living-well-with-prostate-cancer-course
Prostate Scotland is currently developing a range of support and wellbeing services to help men across Scotland navigate prostate cancer and disease.  It is called our COMPASS project and it complements the care you receive from the medical experts.  In time it will cover information, courses, exercise programmes, workshops and support services.
What is available at the moment?