Our free Living Well with Prostate Cancer Course is run in partnership with several Maggie's centres in Scotland.  In Ayrshire, it's run in partnership with Ayrshire Cancer Support, and in Glasgow, with Cancer Support Scotland.
Our course has been specifically designed for men undergoing treatment for prostate cancer or when treatment has finished
Men attend in person unless the course is online
Registration is always open
Our course is run in partnership with the following centres:
Maggie's Highlands – next course starts Tues 17 Oct at 3pm
Cancer Support Scotland, Glasgow – next course starts Wed 1 Nov at 5.30pm
Ayrshire Cancer Support
Maggie's Forth Valley
Maggie's Dundee
Maggie's Fife
Maggie's Edinburgh – online and available to men across Scotland
Maggie's Lanarkshire
Registration is always open and courses are run at all centres throughout the year on a rolling basis.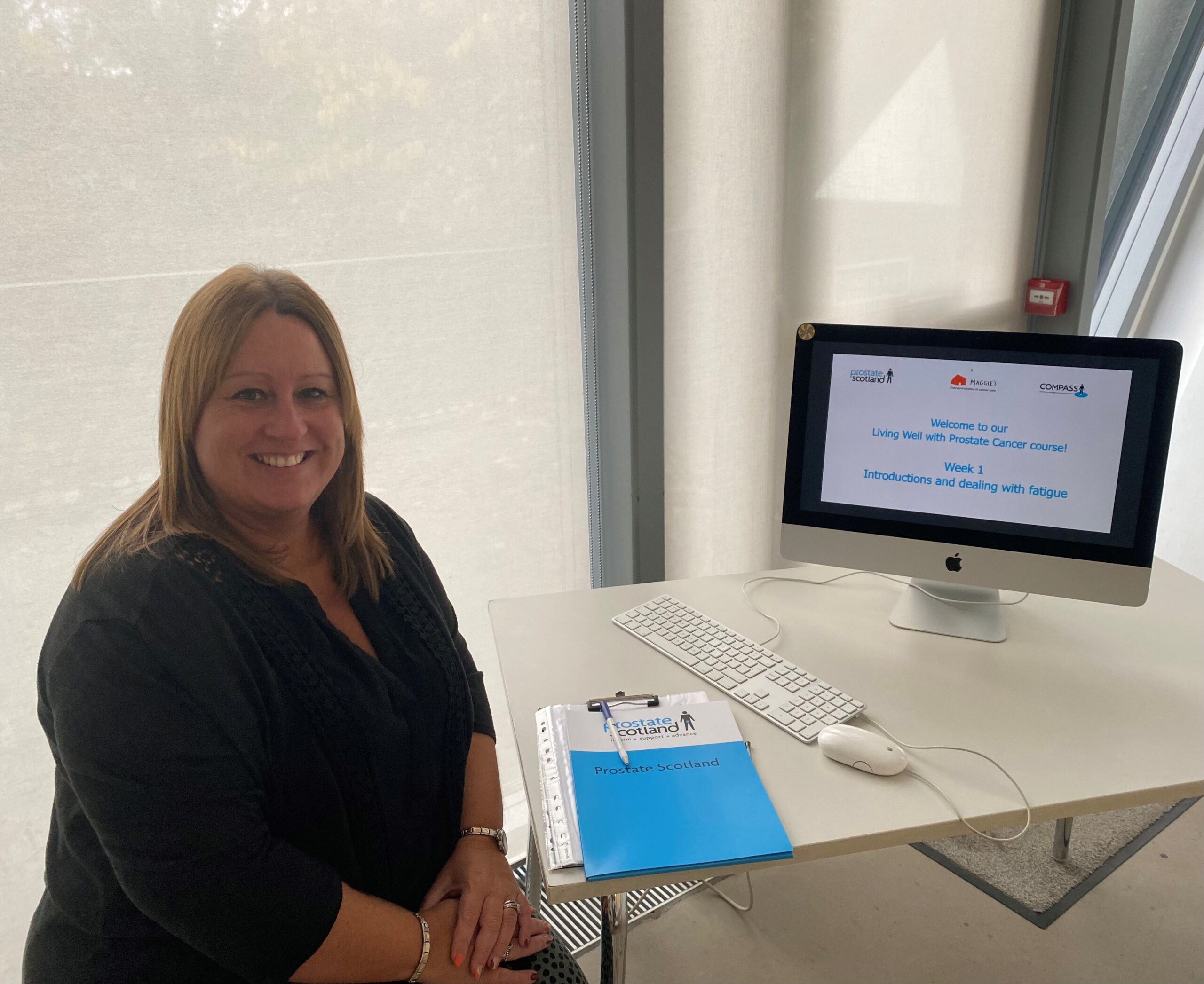 What does the course cover?
We look at a range of topics including the practicalities of having prostate cancer and the side effects of treatment.  Whether you are experiencing fatigue, anxiety, urinary or erectile problems we'll have experts on hand to talk through how to minimise your side effects. The course will also cover what you can do to live well, nutrition, exercise, the potential impact on your finances and relationships, along with other topics!  You'll meet others in a similar situation too.
For how long does the course run?
The course runs over 6 weeks for 1.5 hours and is free of charge. Men who have completed the course have commented that it has been really helpful to speak to others in a similar situation.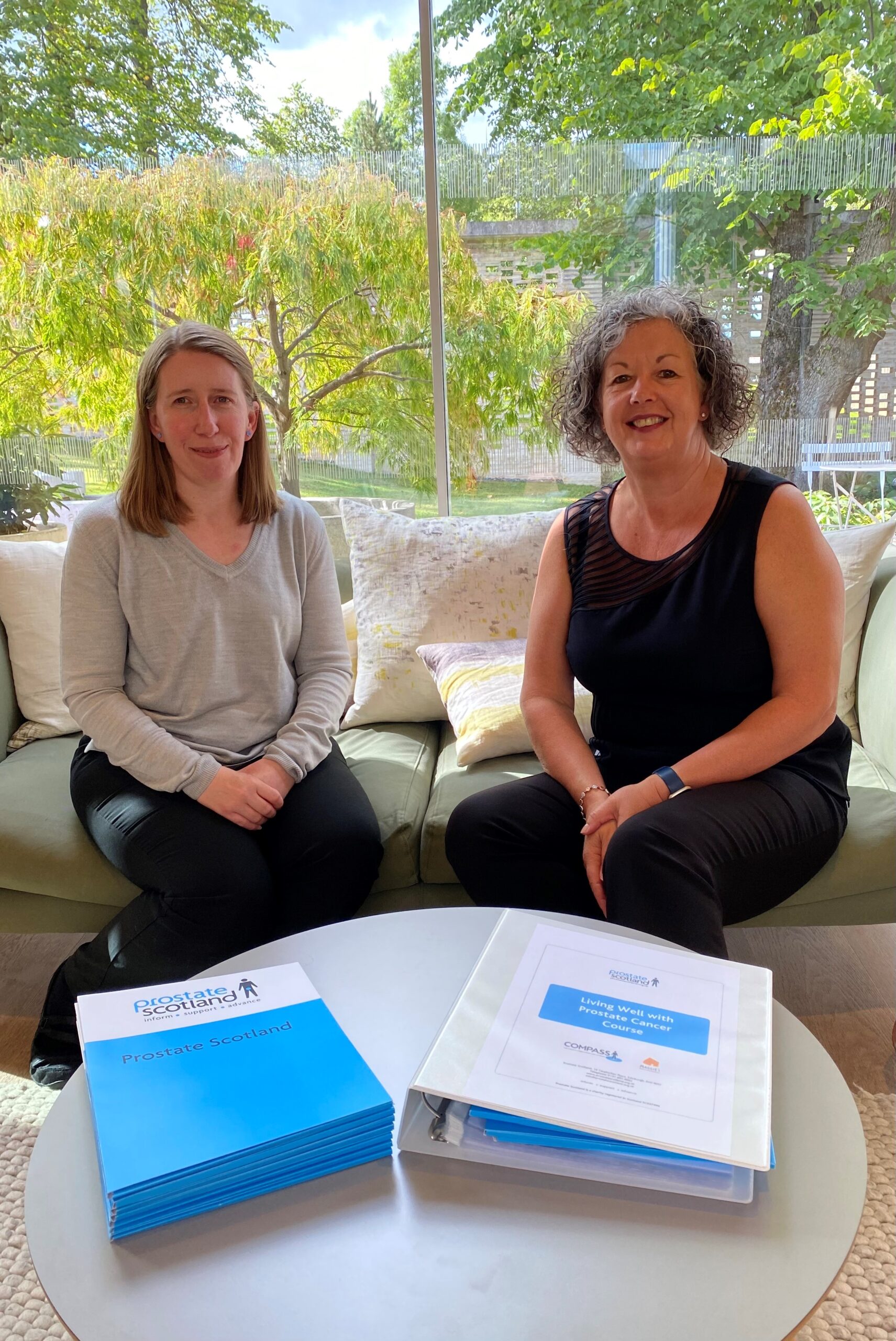 Where can I join a course?
Maggie's Highlands Old Perth Road, Raigmore Hospital, Inverness, IV2 3FL
Cancer Support Scotland The Calman Cancer Support Centre, 75 Shelley Road, Glasgow, G12 0ZE
Ayrshire Cancer Support, 5 Dundonald Road, Kilmarnock, KA1 1EQ
Maggie's Forth Valley, The Nina Barough Building, Off Quintinshill Drive, Larbert FK5 4SG
Maggie's Dundee, Ninewells Hospital, Tom McDonald Avenue, Dundee, DD2 1NH
Maggie's Fife Hayfield Road, Victoria Hospital, Kirkcaldy, KY2 5AH
Maggie's Edinburgh   The Stables, Western General Hospital, Crewe Road, Edinburgh, EH4 2XU
Maggie's Lanarkshire at the Elizabeth Montgomerie Building, Monklands Hospital, Airdrie, ML6 0JS
Men who took part in a previous course said they would recommend it to other men and that it was worthwhile. One participant commented "So many different experiences from the other participants and some invaluable advice from the experts".  Another said "First class. Thank you."
About COMPASS
COMPASS is our comprehensive range of support services to help men across Scotland navigate prostate cancer and disease.  These services complement the care you receive from medical experts.
What else is available at the moment?