Glasgow Kiltwalk 2024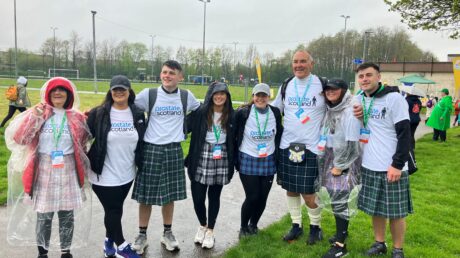 https://www.prostatescotland.org.uk/events/glasgow-kiltwalk-2024
Event details
Date: 28th Apr 2024
City: Glasgow
Country: Scotland
Join the first Kiltwalk of 2024 in Glasgow on Sunday 28 April!
The Kiltwalk makes its return in four Scottish cities – Glasgow, Aberdeen, Dundee and Edinburgh! It's a firm favourite with our supporters, and a fantastic day out!
you walk at your own pace along scenic routes
you'll join many other participants supporting the causes they care about
it's an ideal event for an individual or a group to take part in together
when you fundraise for us, we'll support you with a FREE fundraisers place – fill in the form below!
You'll receive a warm welcome and lots of encouragement from the Kiltwalk team – and…
there are 3 distances – 22.6 miles, 14.2 miles or 3.1 miles – you choose
we'll send you a free Prostate Scotland t-shirt when you fundraise for us – fill in the form below
download the Kiltwalk app for lots of extras too – on the App Store and get it on Google Play
And there's more:
Fill in our form to receive your free t shirt!