Thank you to the Rail Systems Alliance Scotland team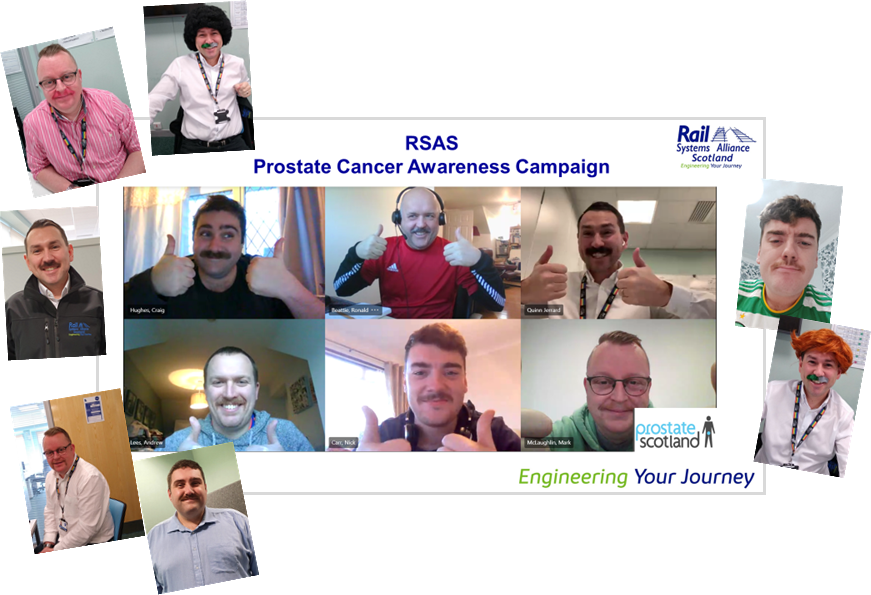 We'd like to say thank you and congratulations to the Rail Systems Alliance Scotland team for growing moustaches in November to raise funds and awareness of prostate cancer.
The team was made up from colleagues in the Commercial and Finance teams in the organisation.  Their fundraising efforts complemented their workplace prostate awareness campaign throughout November.  The team set up a JustGiving page to collect donations and we were pleased to support them by providing them with prostate information packs to share.
We're delighted the team raised the phenomenal sum of  £2,577.50 including Gift Aid to support our work.
Thank you and congratulations to Jerry Quinn, Mark McLaughlin, Craig Hughes, Nick Carr, Ronald Beattie and Andrew Lees for their brilliant achievement.  Thank you also to the many friends, family and colleagues who contributed to their superb fundraising total.
We are looking forward to delivering our series of ToolBox Workshops with the team and all at RSAS in future.
Supporting Prostate Scotland
To complement the care you receive from the medical experts, Prostate Scotland is currently developing a range of support and wellbeing services to help men across Scotland navigate prostate cancer and disease.  It is called our COMPASS project and in time it will cover information, courses, exercise programmes, workshops and support services.  Head to prostatescotland.org.uk/help-and-support-for-you for more details.