Scots to the Arctic!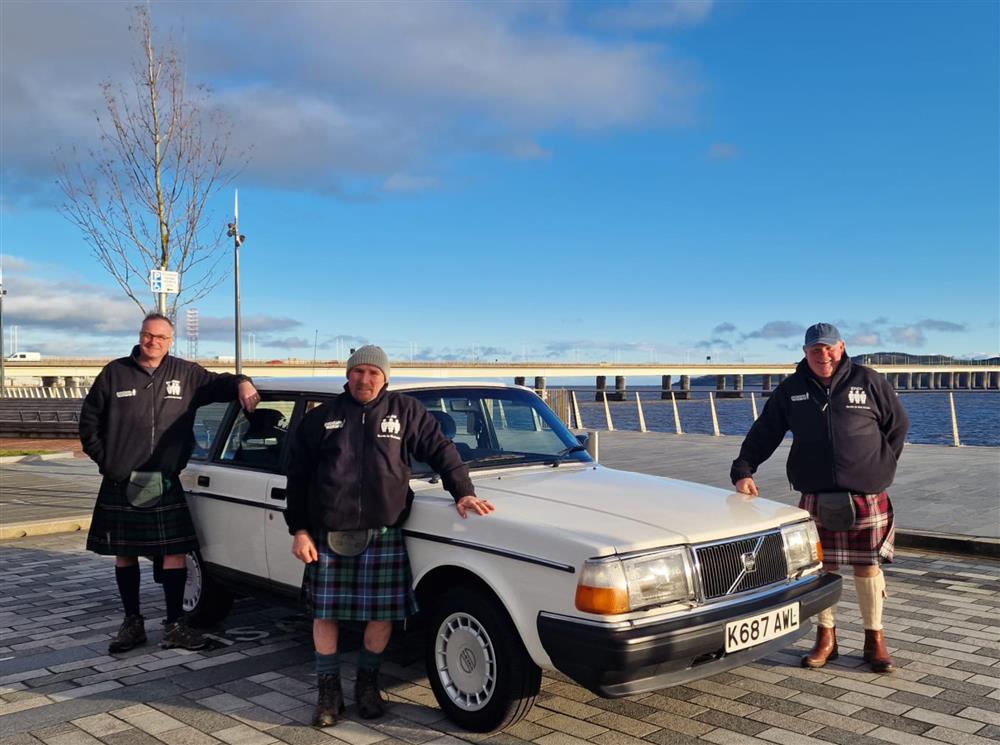 A big thank you to our 'Scots to the Arctic' adventurers currently planning their next exciting challenge!  Our supporters Stephen, Alan and Archie, will drive over 2,000 miles from Tayside to the Arctic Circle. Their vehicle of choice is a 30 year old Volvo 240 Estate.  They've already been raising sponsorship in aid of our work.
Said Stephen "preparations are going fine, now that our navigator has a map of Sweden and not Switzerland!  We are going through the UK, over to Holland, through Denmark, across to Sweden, through Sweden and then over to Norway with an aim of reaching the Arctic Circle Centre in Storforshei!"
"The Volvo, being from Scandinavia, gave us the idea and we are hoping to stop off at the factory she was made in.  The car is 21 years old and has a very fetching, and we hope comfortable blue velour interior."  We're delighted that the team has found a car in our charity colours!
Stephen, Alan and Archie are setting off in May from their homes in Tayside
We're thrilled that they've taken up a new challenge. They've previously supported our work by taking part in a Kilts to Carlo Rally.  For this, they drove from Paisley Abbey in the Rallye Monte Carlo Classique.  It's an official Automobile de Monaco event which takes place entirely on open public roads.  In another challenge, they've driven from Lands End to John O'Groats.  Stephen added "we are also going to be doing the whole trip in kilts again, like the Kilts to Carlo trip, as it really attracted a lot of attention whenever we stopped off anywhere."
To date the team have raised over £4,200 in aid of our work – a fantastic achievement!  The funds raised have helped us to reach out to many more men and their families across Scotland, with information and support on prostate cancer and disease.
We're wishing Stephen, Alan and Archie all the best in this next exciting challenge and thank them wholeheartedly for their continued support!
Read more on the 'Scots to the Arctic' Team at justgiving.com/fundraising/stephen-woods14
Follow their team page on Facebook at Scots to the Arctic
Our service to support men with prostate cancer in Tayside
We've teamed up with Maggie's Dundee to offer our Living Well with Prostate Cancer Course. Registration is always open for the course and men can book their place now.  It's part of our COMPASS project to support men to navigate prostate cancer.
Perthshire Classic Car Tour 2023
Members of Perth Rotary Club are gearing up for their spectacular Perthshire Classic Car Tour 2023 on Sunday 23 April and we're delighted to work with them again as a beneficiary charity. It's a unique event, with 120 entries available – sign up now to take part!