Rotary Ride 2018 for Prostate Cancer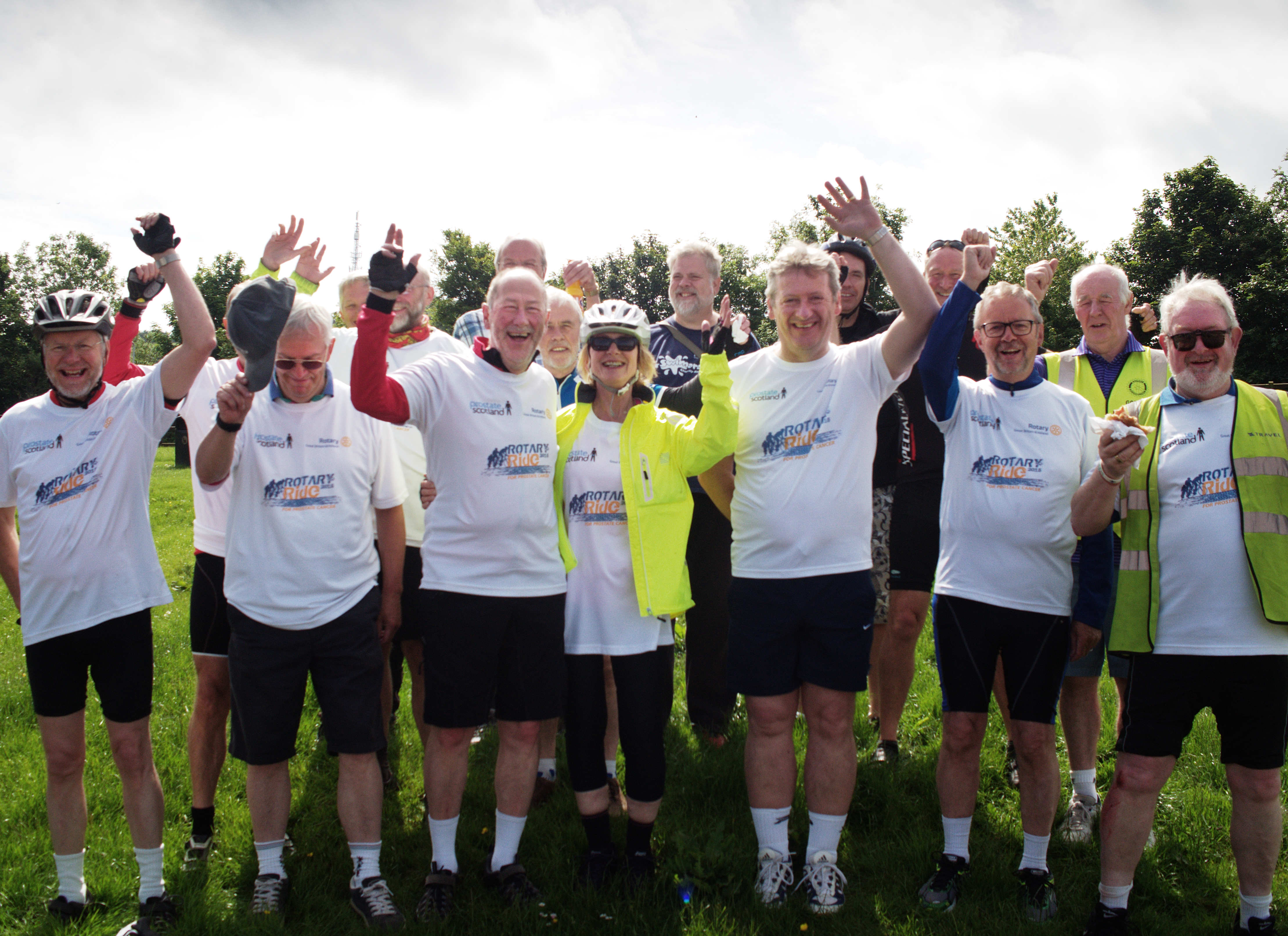 The Rotary Ride 2018 for Prostate Cancer is gearing up for Father's Day weekend, 16th and 17th June 2018, when hundreds of cyclists will pedal to raise funds to aid  awareness, research and treatment into the disease.
Across Great Britain and Ireland, Rotary clubs, of which there are over 1700, will be organising events in their communities for everyone to join in.  If you enjoy cycling, we'd be delighted to have your support.  There are rides to suit all abilities: static rides as well as more challenging routes.  Friends and family can join in the rides and fun days taking place on and around Father's Day – a great way to mark the occasion!  Organised by Rotary GB and Ireland, the chosen beneficiary charities for the next three years are Prostate Scotland, Prostate Cancer UK, Prostate Cymru and the Irish Cancer Society.
We are grateful to have received the support of Rotary Clubs across Scotland through Rotary Rides in 2015 and 2016 which raised in total a fantastic £74,000 in aid of Prostate Scotland's work and towards the Prostate Scotland Blue Horizon Robot Appeal which helped introduce robot assisted prostate cancer surgery to men in the East, South and West of Scotland. We are very pleased to be building on this success by working in partnership on the wonderful Rotary Ride initiative again.
Keith Hopkins MBE National Rotary Ride Coordinator explains: "It's not just fathers who are affected by this disease, it's friends, brothers, sons or even your neighbour. We're holding this ride to help support all those affected by prostate cancer and to make men aware of the symptons. The Rotary Ride for Prostate Cancer is a great chance for people to spend quality time together while raising money and awareness for charity. The charities offer tremendous support for those affected by prostate cancer, whether patients, relatives or friends. Rotary International in Great Britain and Ireland is delighted to be supporting the charities again, after previously partnering with them in 2016."
Adam Gaines, director of Prostate Scotland said:
'With prostate cancer being the most common cancer in men in Scotland and one in ten men in Scotland having a lifetime risk of it, the Rotary Ride for Prostate Cancer 2018 is a brilliant way of raising awareness of prostate cancer and raising funds to tackle prostate cancer. This initiative by Rotary in Great Britain and Ireland and in particular the support of Rotary across Scotland is fantastic and we would like to thank them for going the extra mile to help raise awareness of prostate cancer the length and breadth of Scotland".
To find your nearest Rotary Ride 2018, please click here.
Rotary Clubs:  Register your ride, find an event and get more information by visiting the Rotary Ride registration area rideentry.rotarygbi.org  You will need the login details from the Rotary Ride Guidance Pack  in order to register your event and you can download an Prostate Scotland and Rotary Ride Order Form to order t shirts and awareness and information materials.  Make sure you register your event on the Rotary Ride website.
A narrated slideshow celebrating the fund-raising efforts by Rotarians in aid of Prostate Scotland from the 2016 Rotary Ride for Prostate cancer. VideoSlideshow credit: Tim Dawson