Zipslide the Clyde 2024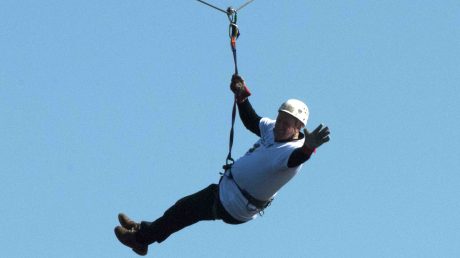 https://www.prostatescotland.org.uk/events/zipslide-the-clyde-2024
Event details
Date: 14th Sep 2024
by Glasgow Riverside Museum
Street Address: by Glasgow Riverside Museum
City: Glasgow
Country: United Kingdom
Minimum Age: 18 years old
Join us to 'Zipslide the Clyde' in September, a stunning 100ft high adventure which launches next to the Glasgow Riverside Museum!
Zipslide the Clyde is a thrilling challenge and a unique way to see Glasgow's cityscape! An exhilarating 100ft high and 1000ft long challenge, you'll launch from a crane next to the stunning Riverside Museum and zip down towards the Tall Ship.
It's a fantastic way to raise funds in aid of Prostate Scotland!
it's an adrenaline packed experience, ideal for thrill seekers – and you don't need to spend hours training!
you'll join many other participants supporting the charities they care about
it's a great fundraising opportunity for an individual, or for a group of colleagues, friends or family to take part in together
We offer free places to our fundraisers for Saturday 14th September.  Please read about Zipslide the Clyde 2024 – it's got all the info you need – and apply for your place today!