The Grand Lodge of Scotland Lectures in aid of Prostate Scotland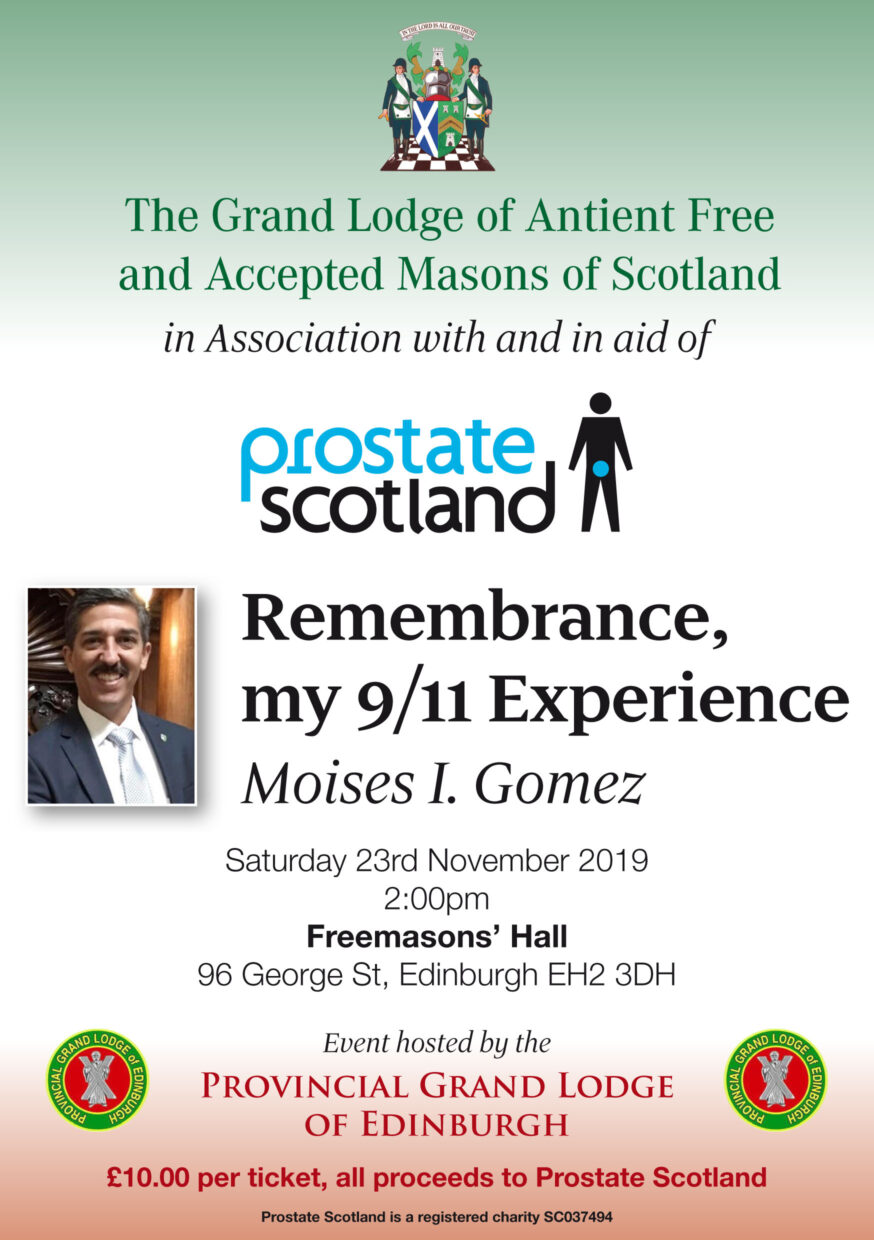 The Grand Lodge of Scotland will be supporting Prostate Scotland with two significant events in aid of the charity in Edinburgh and Glasgow next month.
The Edinburgh event will be held at Freemasons' Hall, George Street on Saturday 23 November from 2pm, with the Glasgow event taking place at Glasgow City Chambers in George Square on Monday 25 November at 6.15 for 7pm.
These will both include a guest lecture on remembrance from Moises Gomez, presently the Grand Historian of the Grand Lodge of New Jersey, USA, and a talk on prostate disease by Consultant Urological Surgeons.
Moises Gomez worked for the port authority of New York and New Jersey for 30 years as a member of the Emergency Service Unit stationed at the George Washington Bridge, where he was on duty and responded to both the 1993 and 2001 terrorist attacks which took place.  Via his 'Remembrance, My 9/11 Experience' Lecture, Moises Gomez will share his personal memories of those tragic events.
The lecture by Moises Gomez and a presentation on prostate disease will feature at both events. In Edinburgh the presentation on prostate disease will be given by Professor Alan McNeill, a Consultant Urological Surgeon and Trustee of Prostate Scotland.  The event in Glasgow will include a presentation from Mr Ian Dunn, who is a Consultant Urological Surgeon and a Lead Clinician for Urology.
There are tickets still available for the Edinburgh event to members of the public.   These are priced at £10.00 each or £20.00 including buffet and are available here from the Grand Lodge of Scotland, with proceeds being donated to Prostate Scotland (registered charity no SCO 37494)