Join our Living Well with Prostate Cancer Course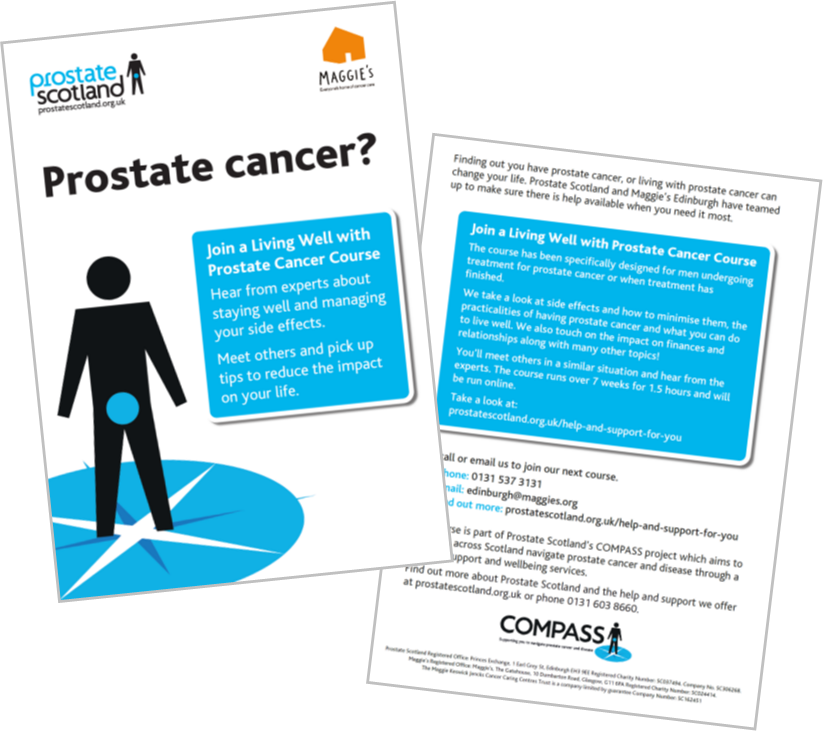 Join our Living Well with Prostate Cancer Course
If you've recently been diagnosed with prostate cancer, and are living in Scotland, this free online course has been designed for you. Prostate Scotland and Maggie's Edinburgh have teamed up to make sure that help is available when you need it most.
Our course beginning on 29 October is now full and our next course begins in January.
hear from experts about staying well and managing your side effects
meet others and pick up tips to reduce the impact on your life
This free course has been specifically designed for men undergoing treatment for prostate cancer or when treatment has finished.
What does the course cover?
We look at a range of topics including the practicalities of having prostate cancer and the side effects of treatment.  Whether you are experiencing fatigue, anxiety, urinary or erectile problems we'll have experts on hand to talk through how to minimise your side effects. The course will also cover what you can do to live well, the potential impact on your finances and relationships along with many other topics!
You will meet others in a similar situation and hear from the experts.  The course runs over 7 weeks for 1.5hrs.  At the moment the course is being held online but we hope to have it face-to-face when it's safe to meet in groups again.
Our Living Well with Prostate Cancer Course is running in partnership with Maggie's Edinburgh.  The course is open to men across Scotland as it is online.  Our course beginning on 29 October is now full and our next course begins in January.  To sign up for the course just call or email.
Tel: 0131 537 3131
Email: edinburgh@maggies.org
We're pleased to offer this as part of our COMPASS project.  Please go to prostatescotland.org.uk/help-and-support-for-you for more information on COMPASS and other help and support available.