The Dundee Virtual Kiltwalk 2020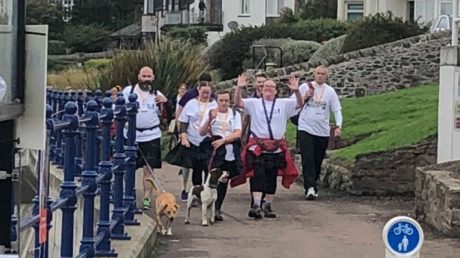 https://www.prostatescotland.org.uk/events/the-dundee-virtual-kiltwalk-2020
Event details
Start Date: 3rd Jul 2020
End Date: 5th Jul 2020
Join us on the Dundee Virtual Kiltwalk in support of Prostate Scotland!
If you'd like to be a Dundee Virtual Kiltwalker, all you need to do is walk any length you wish on the challenge weekend of 3rd to 5th July and raise sponsorship from family and friends.  The key requirement is that you must stay safe, follow Scottish Government and NHS guidelines on staying home, staying safe and on exercise and social distancing
As we're not able to gather right now for the 'usual' Dundee Kiltwalk which was due to take place in August, the Dundee Virtual Kiltwalk has taken its place.
And you can do more than just walking!
For the first time ever, you can vary your challenge too, and do something different or add something extra – skip a mile in tartan, do kilted trampoline-a-thon or even an all day Highland Fling – anything that gets you moving!  You can don your kilt or add a touch of tartan to complement your Prostate Scotland t shirt too. The Kiltwalk is an ideal event for a household to participate in as a team.
Sir Tom Hunter and The Kiltwalk team have done a fantastic job of adapting the Kiltwalk whilst we can't safely gather together.  The Kiltwalk team are encouraging you to post your challenge photos on the Dundee Virtual Storyboard and the Kiltwalk social channels so that you can be part of the Kiltwalk fun and community. Furthermore, all funds that you raise will be generously topped up by 50% from The Hunter Foundation.*
What you need to do now:
Sign up!  We can offer you a free place when you fill in the form below** or you can pay for your own place by signing up here (registration fees: £12.80 adult/£6.50 child/under 5's free)
Download your Virtual Support Pack – this will be sent to you from the Kiltwalk
Start training and fundraising (remember you can walk any length you wish or adapt your challenge!)
Put on your tartan and get walking on the weekend of 3rd to 5th July
Ask your sponsors to donate to you by 7th July.  The funds you have raised plus the 50% top up from the Tom Hunter Foundation will be paid to Prostate Scotland within 24 hours.
As a supporter undertaking this event in aid of Prostate Scotland you will receive:
Pre-event information about how to get sponsorship and fundraise and how to make it easy, safe and fun!
Specially designed Prostate Scotland T shirt
A Prostate Scotland water bottle which we automatically send out to registered walkers
Post-race a Prostate Scotland Certificate of Appreciation
A walker guide, meal voucher(s) and finishers medal are also provided by the Kiltwalk events team.
*  Fundraising closes at midnight on 7th July.  Online monies:  The funds you raise plus 50% top up from The Hunter Foundation will be paid to Prostate Scotland within 24 hours.  Offline monies:  All offline funds should be sent by BACS transfer or cheque to the Kiltwalk Office address by 7th July.  Supporters must email a copy of your sponsorship form to contactus@thekiltwalk.co.uk  Please note, this fundraising boost is valid up to £5,000, subject to deadline and trustee approval – more details are available at www.thekiltwalk.co.uk
The nominated fundraising page provider of the Kiltwalk is EveryDayHero and you will be directed to set up a fundraising page on this site when you register for the Kiltwalk.  You can edit your bio on your page to let your supporters know that you are taking part in aid of Prostate Scotland.
** We can offer you a free place by obtaining a 100% discount code from the Kiltwalk.  Once we have emailed this to you, you should register and purchase your place at www.thekiltwalk.co.uk and apply your discount code at the checkout.