Scotland's Virtual Kiltwalk 2022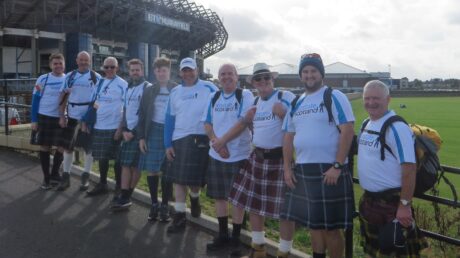 https://www.prostatescotland.org.uk/events/scotlands-virtual-kiltwalk-2022
Event details
Start Date: 7th Oct 2022
End Date: 9th Oct 2022
Country: Dream up your own challenge!
Join us for Scotland's Virtual Kiltwalk 2022 in any challenge you wish!
If you'd like to take part in Scotland's Virtual Kiltwalk 2022, all you need to do is dream up your fundraising activity and complete it on the virtual event weekend of 7th to 9th of October.
You can get really creative with the challenge you set for yourself! The Kiltwalk gives you the freedom to decide on what  challenge you want to do, and we'd all love to see what you get up to!
Your fundraising will help us to take forward our work to ensure that even more men and their families can benefit from and receive information and support on prostate issues.  You can read more about our work here.
What's more, the sponsorship money you raise from family and friends will be topped up by 50% by The Hunter Foundation.*
The Kiltwalks are ideal events for a family or a workplace team to take part in together.  We offer free places to supporters raising funds in aid of our work – you can apply for your free place by filling in the form below.  While the Kiltwalk team may not be with you on the day, they'll be with you all the way across their social channels. and there'll be plenty of Virtual surprises to look out for over the weekend.
In 2020, 16,000 Kiltwalkers devised their own active challenges and raised £2.5 million for charities, with The Hunter Foundation doubling the fundraising total to £5 million.
The Virtual Kiltwalk in April 2021 saw 11,500 Kiltwalkers raise £4.1 million, with an additional £2.05 million donated from the Hunter Foundation; assuring a massive £6.15 million for Scottish charities big and small.
What you need to do now:
Dream up your challenge!
Register:  we can offer you a free place when you fill in the form below** or you can pay for your own place by registering here (registration fees: £15.00 adult/£7.50 child/under 5's free)
Set up your online fundraising page – you'll be directed to do this during registration
Start training and fundraising
Put on your tartan and your Prostate Scotland T shirt and join in the fun on the weekend of 7th to 9th October
We'll support you with:
Pre-event information about how to get sponsorship and fundraise and how to make it easy, safe and fun!
Specially designed Prostate Scotland T shirt
Post-walk a Prostate Scotland Certificate of Appreciation
** We can offer you a free place by obtaining a 100% discount code from the Kiltwalk.  Once we have emailed this to you, you should register and purchase your place here and apply your discount code at the checkout.
You'll receive a link to your personal JustGiving page by email shortly after registration.  Please use this link if you are setting up a fundraising page.  This is the Kiltwalk's elected online fundraising platform and is the quickest and easiest way for funds to be received by charities, and the way in which the 50% fundraising top up is applied by The Hunter Foundation.
Download your sponsor form for the Virtual Kiltwalk
Please use this sponsor form provided by the Kiltwalk for this event; please do not use Prostate Scotland's sponsor form.  Using the Kiltwalk form ensures we receive the 50% top up from the Hunter Foundation, and the Kiltwalk will also claim Gift Aid from this form.
*About the 50% top-up
All funds raised by Kiltwalkers must go through the Kiltwalk before being sent on to Prostate Scotland with the 50% top-up.  The 50% fundraising top up limit for this current year 1st January 2022 to 31st December 2022 is £5000 per walker or donor. This is a cumulative limit for all Kiltwalk events in the above period.  All fundraising top ups are subject to deadlines and Trustee approval.  For more information on the top-up please go to:  The Kiltwalk | Where Your Money Goes