Glasgow Kiltwalk 2022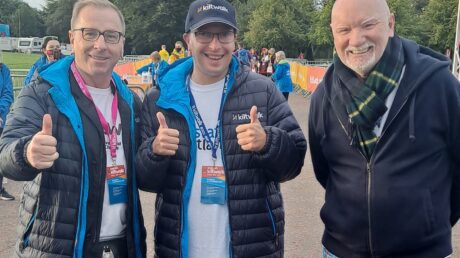 https://www.prostatescotland.org.uk/events/glasgow-kiltwalk-2022
Event details
Date: 24th Apr 2022
City: Glasgow
Country: Scotland
Join the first live Kiltwalk of 2022 in Glasgow on Sunday 24 April!
The Kiltwalk makes its live return in four Scottish cities – Glasgow, Aberdeen, Dundee and Edinburgh! It's a firm favourite with our supporters.  It's a fantastic day out, walking at your own pace along scenic routes, and with a fun and friendly atmosphere to enjoy.
And…
we offer a free place in any route in the Glasgow Kiltwalk 2022 when you fundraise in aid of Prostate Scotland – just fill in our form below to request your place
all of your fundraising will be topped up by 50% thanks to the support of The Hunter Foundation*
following the great success of the Virtual Kiltwalks recently, Scotland's Virtual Kiltwalk 2022 will take place on 7 to 9 October!
There are three routes you can choose, and all three make their way out to the finish line in Balloch. 
The Wee Wander – this is an easier challenge of 3 miles. If you'd like to fundraise with a young family, this could be an ideal event for you.  Children aged 5 and above are allowed to participate in this distance.  It starts at Lomond Shores.
Cost of registration:  Child £6.50/Adult £12.80
The Big Stroll – an intermediate challenge suitable for most fitness levels, ideal for a fun day out with a group or an older family.  This route is 14.37 miles long and leaves from Clydebank.
Cost of registration:  Child £31.69/Adult £31.69
The Mighty Stride – the biggest Kiltwalk challenge, where training is essential.  This route is 22.7 miles long.  This route will start in the city's Glasgow Green and make its way out to the finish line in the idyllic surroundings of Balloch.
Cost of registration:  Child £31.69/Adult £31.69
The biggest ever Kiltwalk took place in Glasgow in 2019 – over 13,000 people took part.  The routes of each Kiltwalk vary, depending on your choice of distance.  With its relaxed and friendly atmosphere, it's grown in popularity over the last few years.  It's an ideal event for a group of colleagues or a family to take part in as a team.  The event is not timed, not a race, and walkers of all capabilities are welcomed.  Dogs can also join in with their owners! And…wearing your kilt or a touch of tartan with your Prostate Scotland t-shirt is all part of the experience too!
When you fundraise in aid of Prostate Scotland, we'll send you:
Pre-event information about how to get sponsorship and fundraise and how to make it easy, safe and fun!
Specially designed Prostate Scotland T shirt
Post-walk a Prostate Scotland Certificate of Appreciation
* Please note, this fundraising boost is valid up to £5,000, subject to deadline and trustee approval – more details are available at www.thekiltwalk.co.uk
**Any person under the age of 16 wishing to participate in the event must be accompanied by an adult.
Glasgow is just one of four cities hosting a Kiltwalk throughout the year.  You can don your tartan and walk in Aberdeen, Dundee, Edinburgh or in Scotland's Virtual Kiltwalk 2022!
How to get your free charity place:
We offer a free place in the Glasgow Kiltwalk by obtaining a 100% discount code from the organisers – please fill in the form below to request your place.  Once we have emailed the code to you, you should register as soon as possible at thekiltwalk.co.uk, purchase your place, and apply your code at the checkout.
You must sign up successfully as soon as you can to guarantee your entry at thekiltwalk.co.uk
You'll receive a link to your personal JustGiving page by email shortly after registration.  Please use this link if you are setting up a fundraising page.  This is the Kiltwalk's elected online fundraising platform and is the quickest and easiest way for funds to be received by charities, and the way in which the 50% fundraising top up is applied by The Hunter Foundation.
You'll receive a warm welcome and lots of encouragement from the Kiltwalk team whether you take a wee wander or a mighty stride!
Download your sponsor form for the Glasgow Kiltwalk
Please use this sponsor form provided by the Kiltwalk for this event; please do not use Prostate Scotland's sponsor form.  Using the Kiltwalk form ensures we receive the 50% top up from the Hunter Foundation, and the Kiltwalk will also claim Gift Aid from this form.