Captain Tom 100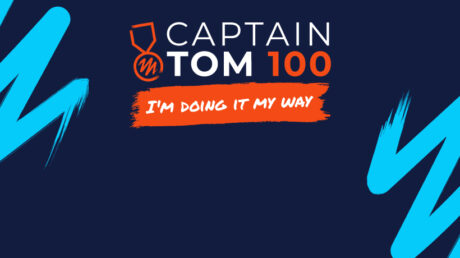 https://www.prostatescotland.org.uk/events/captain-tom-100
Event details
Start Date: 30th Apr 2021
End Date: 3rd May 2021
Join us for the Captain Tom 100 event to support Prostate Scotland – virtually!
The family of Captain Sir Tom Moore are asking people to take on their own fundraising challenge in aid of a charity of their choice.  It's a virtual event to celebrate his life and everyone is invited to join in!
On 6th April last year, Captain Sir Tim Moore set out to walk 100 laps of his garden by his 100th birthday on 30 April.  His goal was to raise £1,000 for NHS Charities Together and he went on to raise £38.9 million.
His family now want others to set themselves a fundraising challenge around the number 100.
This could be you walking or running 100 laps of your garden or stairs!  Or you could sing 100 songs, score 100 goals, bake 100 cakes, putt 100 golf balls, build 100 sandcastles, write 100 poems, pedal 100 miles, tell 100 jokes, eat 100 baked beans..!  Here's 100 ideas to get started – you can do any activity you wish.  You may even want to devise an activity that your whole family or household could participate in as a team!
Please stay safe…
and follow up-to-date Scottish Government and NHS guidelines, on staying safe and on social distancing. We are here to support you in your fundraising – you can contact our Supporter Care team here, at info@prostatescotland.org.uk or on 0131 603 8664 or 0131 603 8660.
When should I do my challenge?
At any time from Friday 30th April to Bank Holiday Monday 3rd May.  This is Captain Tom's birthday weekend!  Friday 30th April would have been his 101st birthday and the one year anniversary of the completion of his amazing fundraising achievement.
How do I get involved?
It's very easy to get involved:
We hope you'll join the thousands of people around the world taking part in Captain Tom 100 and spread his message of hope while raising funds.
From Prostate Scotland you will receive:
Information about how to get sponsorship and fundraise and how to make it easy, safe and fun!
Specially designed Prostate Scotland T shirt
Post-event a Prostate Scotland Certificate of Appreciation
We'd be delighted to hear from you with any ideas or queries you may have.  Please take a couple of minutes to register your activity by submitting the form below.  Then we can support you in your fundraising.  You can also contact us at info@prostatescotland.org.uk or on 0131 603 8664 or 0131 603 8660.